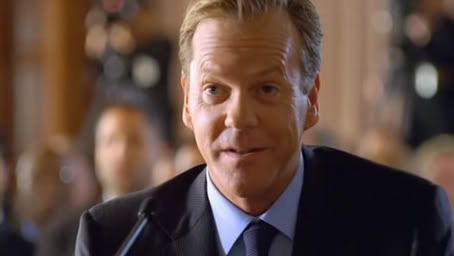 Jack Bauer's nightmare day will become even worst judging by this exciting new trailer promoting season seven of the hit 'real-time' drama that is 24.
The new season will be set several months after season 6 with season 7 beginning and ending at 7:00 AM. The new series will be broadcast in America early next year followed soon on Sky One here in the UK.
Kiefer Sutherland, the Emmy award-winning actor, will play the role as Jack Bauer but this new season promises to be a more personal story than the previous six seasons of the show.
The initial back-story will feature Jack on trial for his actions in the pursuit of justice. Meanwhile a major national security breach occurs when the firewall responsible for protecting America's government computer infrastructure is breached.
For the first time in 24 history, a female president will be featured as opposed to the Palmer brothers. Cherry Jones will play President Allison Taylor. But the most surprising character to return to the show is Tony Almeida (yes, that's right he is not dead)! Carlos Bernard will reprise his role as this season's main antagonist.
In addition, this will be the first season that Jack Bauer is not working for CTU.
In the trailer Jack is appearing before Congress concerning his past extralegal activities, particularly the torture of Ibrahim Haddad. Haddad was a terrorist who targeted a bus carrying 45 people, 10 of which were children. Jack therefore stopped that attack from happening.
It is revealed that the season's crisis involves a breach of the "CIP firewall" that protects every major infrastructure system, leaving telecommunications, transportation, and power grids vulnerable (though this reminds me to the plot of Bruce Willis's all-action movie that is Die Hard 4.0).
Shockingly, Tony Almeida is part of this national crisis and we will see a new side to him, playing a villain!
Even the FBI is seeking assistance to the man who doesn't go to sleep or take comfort breaks! Can Jack Bauer save the world again? Find out next year when 24 season seven returns to the small screen.
Click here to view the two minute preview.
Update: Due to the ongoing Writers Guild of America strike, Fox has just decided to postpone the previously scheduled January 13 premiere of 24's seventh season to ensure that when 24 does return, Day 7 can air uninterrupted, in it's entirety. At present, only about one-third of the 24 episodes have been filmed.