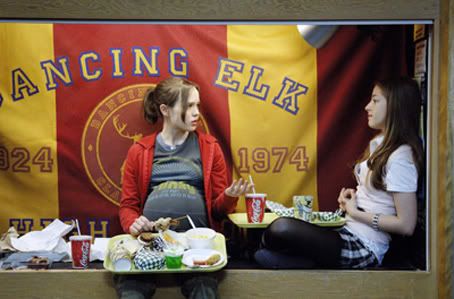 Rising star Ellen Page stars as a smart-talking 16-year-old Juno MacGuff, who gets pregnant the first time she has sex with fellow virgin Paulie Bleeker (Michael Cera). Unable to face the prospect of abortion, Juno decides to give up the baby up for adoption, so she finds a loving but childless couple Mark and Vanessa (Jason Bateman and Jennifer Garner) through the want ads in a local paper.
However, as she spends more time with the couple, she discovers that their marriage isn't quite picture-perfect as it first appeared. Meanwhile, Juno's father (J.K. Simmons), stepmother (Allison Janney) and best friend Leah (Olivia Thirlby) offer as much help as they can.
Nominated by four Academy Awards in the run up to this year's Oscars, including Best Picture, Juno is an engaging and witty teen comedy written by a former stripper now blogger Diablo Cody. The script provides plenty of laughs with some razor-sharp dialogue throughout the running time of 96 minutes.
Ellen Page is fabulous in the leading role, with her enthusiastic personality and dry-wit. Some people may remember Ellen from her shining performance in Hard Candy back in 2005, in which many critics praised her for "one of the most complex, disturbing and haunting performances of the year". With a nomination for the Best Actress award in the 2008 Academy Awards, Ellen is on route to becoming a future star of Hollywood.
As for the supporting cast, it is great to see several star names I recognised from past television and movie roles appearing in Juno. Michael Cera and Jason Bateman from Arrested Development, Jennifer Garner (Alias) and Allison Janney (The West Wing). Each of them playing their roles superbly alongside Ellen.
Even though the subject matter may seem controversial on the whole pregnancy/childbirth/adoption issue, director Jason Reitman (Thank You For Smoking) sets an up-beat tone with a great soundtrack, colourful production design and a delightful animated opening credits sequence. Despite the 'feel good' attitude, Juno manages to address the abortion versus adoption issue in a surprisingly mature way – with the final scenes in particular emotionally moving.
Probably the best independent film since Little Miss Sunshine, Juno is a hilariously teen comedy with delightful characters working with a fantastic script. Highly recommended.