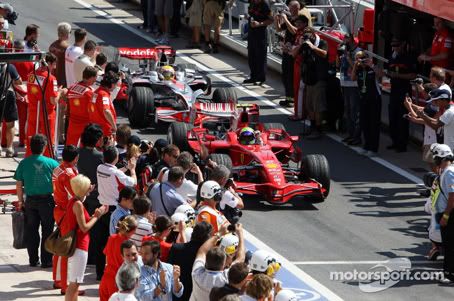 Ferrari's Felipe Massa celebrated his 100th Grand Prix with victory after a commanding performance on the streets of Valencia. The Brazilian made up for his late-race disappointment in Hungary by taking Sunday's European Grand Prix in style – leading from start to finish.
However, his victory was only confirmed once race stewards had investigated his second pit stop on lap 37. Massa nearly crashed with Force India's Adrian Sutil in the pit lane following his stop and the stewards deemed his release had been unsafe.
As a result of the incident the Brazilian has been reprimanded and Ferrari fined 10,000 Euro for the "unsafe release from pitstop, although no sporting advantage was obtained."
That was one of many incidents for Ferrari at Valencia. Team-mate Kimi Raikkonen had a messy situation in the pits on lap 43, when he was pulled away prematurely while the refuelling hose was still attached to his F2008… In the melee, a race mechanic was struck by the red car's rear wheel. He was stretchered to the medical centre for further checks.
To compound the Finn's misery, his engine blew shortly afterwards, ensuring he left Valencia empty-handed. The world champion is now 13 points off the championship pace.
BMW Sauber's Robert Kubica continues to impress with another strong podium finish with third. The Pole is still within 15 points off Hamilton in the title race. As for Heikki Kovalainen – who finished in fourth – McLaren may focus its resources by asking Kovalainen to support his team-mate in the remaining races of the season. Heikki has fallen 27 points behind in the drivers' standings after this event.
Toyota's Jarno Trulli finished in a solid fifth with team-mate Timo Glock again scoring some championship points with seventh. This was an impressive result by the German after running a one-stop strategy to haul himself up from P13 on the grid.
In between the pair was Toro Rosso's Sebastian Vettel. The youngest was the star of the weekend and to finish in sixth is a great achievement.
The final championship point went to Williams' Nico Rosberg, who led home BMW Sauber's Nick Heidfeld, Toro Rosso's Sebastien Bourdais and Renault's Nelson Piquet.
Red Bull's Mark Webber, Honda's Jenson Button, Renault's Giancarlo Fisichella, Williams' Kazuki Nakajima, Honda's Rubens Barrichello and Red Bull's David Coulthard all finished the European Grand Prix a lap down.
As for the double world champion and home crowd favourite Fernando Alonso, the Spaniard was unlucky to get involved in the opening lap shunt with Nakajima. He had to retire when the Japanese hit the back of his R28, ripping off the rear wing and damaging the suspension.
It was a disappointing result for Alonso as the massive ranks of Spanish fans alongside the harbour-side grandstands were left with no hero to cheer on.
But it was a good day for race winner Felipe Massa. Despite that pit lane controversy, the Brazilian drove a superb and commanding race from the front. Massa now has the momentum to lead Ferrari to championship success. Can Lewis Hamilton keep hold of his points lead as Formula One travels to the majesty Spa-Francorchamps? We will find out in two weeks' time.
Race results from Valencia – 57 laps:
1. Massa Ferrari 1h35:32.339
2. Hamilton McLaren-Mercedes +5.611
3. Kubica BMW Sauber +37.353
4. Kovalainen McLaren-Mercedes +39.703
5. Trulli Toyota +50.684
6. Vettel Toro Rosso-Ferrari +52.625
7. Glock Toyota +1:07.990
8. Rosberg Williams-Toyota +1:11.457
9. Heidfeld BMW Sauber +1:22.177
10. Bourdais Toro Rosso-Ferrari +1:29.794
11. Piquet Renault +1:32.717
12. Webber Red Bull-Renault +1 lap
13. Button Honda +1 lap
14. Fisichella Force India-Ferrari +1 lap
15. Nakajima Williams-Toyota +1 lap
16. Barrichello Honda +1 lap
17. Coulthard Red Bull-Renault +1 lap
Fastest lap: Massa, 1:38.708
Not classified/retirements:
Raikkonen Ferrari 46 laps
Sutil Force India-Ferrari 42 laps
Alonso Renault 1 lap
World Championship standings, round 12:
Drivers:
1. Hamilton 70
2. Massa 64
3. Raikkonen 57
4. Kubica 55
5. Kovalainen 43
6. Heidfeld 41
7. Trulli 26
8. Alonso 18
9. Webber 18
10. Glock 15
11. Piquet 13
12. Barrichello 11
13. Vettel 9
14. Rosberg 9
15. Nakajima 8
16. Coulthard 6
17. Button 3
18. Bourdais 2
Constructors:
1. Ferrari 121
2. McLaren-Mercedes 113
3. BMW Sauber 96
4. Toyota 41
5. Renault 31
6. Red Bull-Renault 24
7. Williams-Toyota 17
8. Honda 14
9. Toro Rosso-Ferrari 11
Next race: Belgian Grand Prix, Spa-Francorchamps, September 5-7.