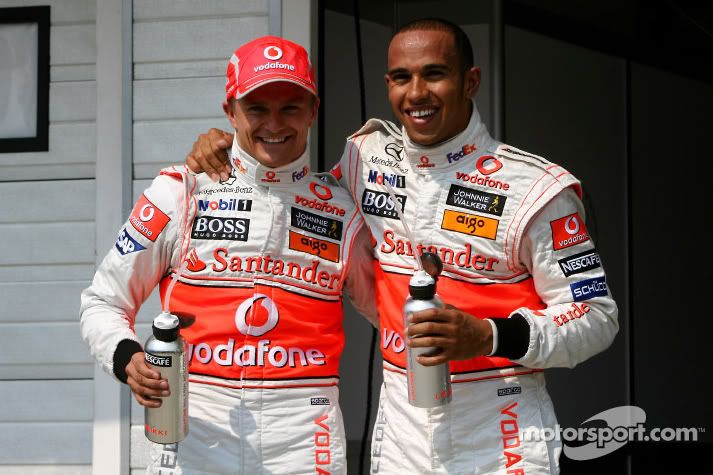 Lewis Hamilton will start the Hungarian Grand Prix from pole position for the second year in succession.
His time of one minute, 20.899 seconds was comfortably the fastest around the dusty and twisty Hungaroring circuit. By grabbing pole position – his tenth in Formula One – Lewis is on target in achieving a hat-trick of race victories.
McLaren team-mate Heikki Kovalainen qualified alongside earning the team's first front row since Monza 2007. The silver cars clearly have the speed advantage over their rivals and it will be fascinating if Ferrari can keep up in the 70-lap race.
Championship rival Felipe Massa will start in third while Ferrari team-mate Kimi Raikkonen again struggled with set up issues and could only manage sixth.
Robert Kubica heads BMW Sauber's challenge with a solid fourth while Timo Glock enjoyed his best-ever qualifying to take fifth for Toyota. This was a fine effort from the German following his massive crash in Hockenheim last month.
Even though Kubica will start the Hungarian Grand Prix from row two, his BMW Sauber team-mate Nick Hedifeld will have to make do with only P15. The reason for his low grid position? He was caught out by a controversial incident during Q1 involving the Toro Rosso of Sebastien Bourdais…
Heidfeld's first qualifying lap wasn't quick enough and he needed more to be sure of going through into Q2. Unfortunately, the German felt he was impended by Bourdais in the final corner.
The Toro Rosso driver had just lost momentum after letting Giancarlo Fisichella's Force India by. It was at this moment, the fast charging BMW was approaching… Heidfeld ran wide exiting the final corner and he vent his frustration by gesturing at the Frenchman.
Heidfeld complained to the race stewards and after observing the video replays, they found that the Toro Rosso driver was deemed to have impeded the BMW Sauber during the first round of qualifying.
And so, Sebastien Bourdais will be moved back five places on the grid for tomorrow's Hungarian Grand Prix.
Rounding out the top ten, double world champion Fernando Alonso will start in seventh ahead of Mark Webber, Jarno Trulli and Renault team-mate Nelson Piquet.
Sunday's Grand Prix might be a procession due to the lack of overtaking opportunities in this twisty and narrow race track. McLaren has the speed advantage over Ferrari, but can the Italian team challenge for the race win?
By starting on pole position, Lewis Hamilton has the best opportunity in extending his points lead in the championship standings with race victory. But can Heikki Kovalainen prevent Lewis by claiming his maiden win? What about the tyre situation? Do the super-soft Bridgestone have the durability to survive seventy punishing laps around the Hungaroring? Let's find out on race day.
Starting grid for the Hungarian Grand Prix:
1. Hamilton McLaren-Mercedes 1:20.899?
2. Kovalainen McLaren-Mercedes 1:21.140?
3. Massa Ferrari 1:21.181?
4. Kubica BMW Sauber 1:21.281?
5. Glock Toyota 1:21.326?
6. Raikkonen Ferrari 1:21.516?
7. Alonso Renault 1:21.698?
8. Webber Red Bull-Renault 1:21.732?
9. Trulli Toyota 1:21.767?
10. Piquet Renault 1:22.371?
11. Vettel Toro Rosso-Ferrari 1:20.144?
12. Button Honda 1:20.332?
13. Coulthard Red Bull-Renault 1:20.502?
14. Rosberg Williams-Toyota 1:20.748
15. Heidfeld BMW Sauber 1:21.045?
16. Nakajima Williams-Toyota 1:21.085?
17. Barrichello Honda 1:21.332?
18. Fisichella Force India-Ferrari 1:21.670?
19. Bourdais Toro Rosso-Ferrari 1:20.963*?
20. Sutil Force India-Ferrari 1:22.113
*Five place-penalty for impeding Nick Heidfeld in Q1