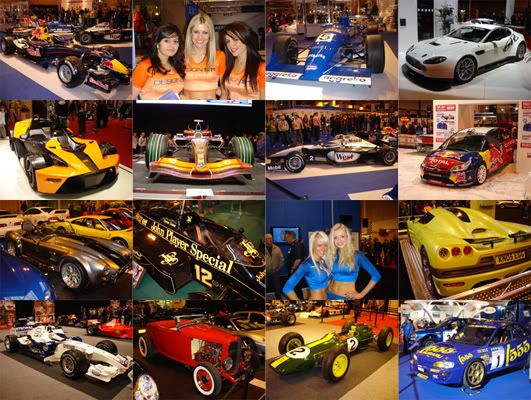 My annual visit to Birmingham's NEC to attend the Autosport International Show is often the highlight of the new year. As this is my opportunity to meet up with my good friends and see some racing cars/stars up close and personal.
The high point was of course was the F1 Racing stand and unique for this year, a special car display celebrating the past British Formula One world champions. From the likes of Jackie Stewart's Tyrrell, James Hunt's McLaren, to Nigel Mansell's Williams and Lewis Hamilton's 2008-spec McLaren. It's amazing to see these cars all in the same area and it is fascinating how the advancement in technology and aerodynamics has changed the shape and look of the cars over the past five decades.
Another highlight was the David Coulthard stand, featuring a collection of the Scotsman race cars. Seeing DC's little go-kart alongside his Formula Vauxhall and Williams-Renault is amazing and you have to wonder how much all these cars, race suits and helmets cost… I wasn't surprised by the amount of extra security protecting the DC collection from the public.
Unlike my last visits, I wasn't able to attend the Live Action Arena, as there was a mishap in purchasing the tickets. It didn't matter anyway, as I spent this free time wandering around, taking photographs and asking for autographs from the racing stars.
This year's Pistol Head performance car show was quite low-key. Instead of a large collection of exotic supercars, this year it was all about the BMW M3 and Porsche 911.
In fact, the whole Autosport show felt downscaled. The new layout didn't help and after visiting the main attractions, you are left with little else to see… Which is a shame, as past events made this annual trip to the NEC worthwhile.
Still, at least I came away with some free stuff given out by those promo girls. So I shouldn't complain too much!