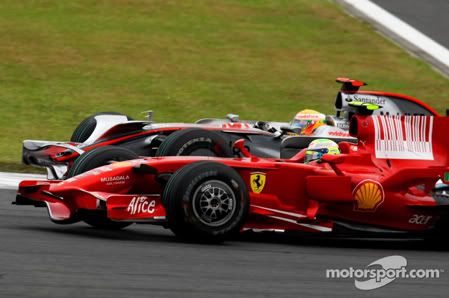 This weekend is the big event. After seventeen rounds of this year's highly competitive and controversial Formula One season, two drivers are on the verge of winning the drivers' title in Brazil. Like last year, Lewis Hamilton will have the advantage with a seven-point lead over title rival Felipe Massa, but will history repeat itself come race day on Sao Paulo?
This is Hamilton's second opportunity to win the drivers' championship, as back in 2007 he missed out due to cracking under the pressure by first trying to desperately get pass his then McLaren team-mate Fernando Alonso on the opening lap, and later suffering a rare gearbox malfunction as Lewis tried to regain lost ground. The Briton lost out to Ferrari's Kimi Raikkonen, who took the title against all odds by a single point.
This time, Lewis Hamilton has vowed to take a relax approach and following his dominant performance in Shanghai two weeks ago, the Briton will have the upper hand as he only needs to finish fifth or higher to take the crown.
But circumstances could fall in his way during the Brazilian Grand Prix… Lewis has yet to encounter a failure on his ultra-fast McLaren MP4-23. The same can't be said to team-mate Heikki Kovalainen, who seemed to have all the bad luck with the car breaking down… Okay, Lewis did have some 'off' days when he failed to record any significant points no thanks to his aggressive driving style. Case in point when he collided into Alonso at Bahrain, with Raikkonen in the pit lane at Montreal and cutting the chicane at Spa… Lewis will need to keep himself in check by driving sensibly and in line with the strict Formula One rules, as breaking them would result in penalties…
If the McLaren is reliable and the new aerodynamic body kit – featuring a revised rear-wing – provides extra confidence to the driver, then you will see a British world champion since Damon Hill back in 1996. If Lewis Hamilton manages to win the title, it will be his lifelong ambition being fulfilled and he will become the youngest champion in the history of Formula One motor racing.
As for his opponent, Felipe Massa has the unique opportunity of taking the drivers' crown in front of his adoring and passionate Brazilian fans. Only victory will be good enough, as nothing else will do. The Ferrari driver needs all the support and probably luck in order to win his first title. But saying that, the young Brazilian has a fantastic record around Interlagos.
In 2006, Massa won his second Grand Prix in style with a dominant performance in front of his home crowd. Doing so, Massa became the first Brazilian driver to win at Interlagos since the late, great Ayrton Senna took the honour back in 1993. The following year, he was leading the race comfortably but pulled over to let his team-mate Raikkonen through for the Finn to take the championship away from the McLaren pair (Alonso and Hamilton). He finished second in that race.
And now with the championship poised with a climatic finale this year, Massa will be determined to score a perfect result with race victory. He will have the support of team-mate Raikkonen and Renault's Fernando Alonso, but it will be all down to him to perform in qualifying and in the race.
Here's hoping Felipe will have a clean fight with Lewis with a fast, consistent car with no pit stop 'dramas' that could hinder his attempt to win.
So who will win the ultimate prize in Formula One? The British public and media will want Lewis to take it after his impressive performance this season and with a seven-point advantage, he can afford to take the conservative approach to land the title. But he is a racing driver after all and the overall victory is what matters, so don't be surprise if he goes all out for the maximum ten points! Only fifth place or higher will get the job done, so keep that in mind Lewis.
Personally, I like to see Massa to triumph, as he is the most improved driver in 2008. Yes, he had made some errors including spinning off no less than five times in the soaking wet British Grand Prix at Silverstone(!) but I truly believe he has the ability to cast aside his doubters/critics with a strong result at his home circuit.
We shall find out who will be spraying the champagne on Sunday evening. Let battle commence!