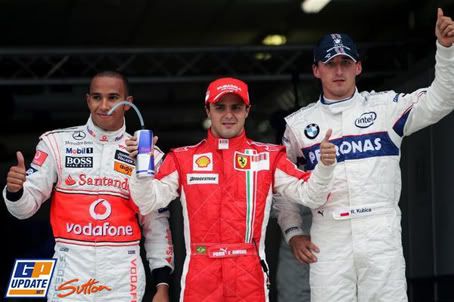 Ferrari's Felipe Massa produced a perfect lap around the challenging new street track in Valencia, edging out championship leader Lewis Hamilton for pole position.
The duo battled fiercely in Q3, with the Brazilian initially taking the top spot by half a second after the McLaren driver made a mistake in the final sector of his lap.
Undaunted, Hamilton responded with a second attempt that was error-free and went quicker than Massa (by a small margin of two tenths of a second). But Felipe was able to resist and recorded his fourth pole position of the season with a time of one minute, 13.989 seconds.
BMW Sauber's Robert Kubica will start the race in third with the current world champion Kimi Raikkonen alongside for Ferrari. Hungarian Grand Prix winner Heikki Kovalainen could only manage fifth for McLaren.
But the real star of qualifying was Sebastian Vettel, who was fastest of all in Q2. The German was driving superbly in the Toro Rosso and to be rewarded with sixth position on the grid is a fantastic achievement for the talented driver. Team-mate Sebastien Bourdais also produce a good result for the team, with his best grid slot in Formula One with tenth.
After setting the fastest time in Q1, Toyota's Jarno Trulli will start the European Grand Prix in seventh, ahead of BMW Sauber's Nick Heidfeld and Williams' Nico Rosberg. The former was fortunate to reach Q3 after having to take to the asphalt run-off in the first qualifying session due to a misunderstanding with Timo Glock's Toyota in traffic.
As for home crowd favourite Fernando Alonso, the double world champion was unable to produce a result for Renault after making a mistake at turn 14. Alonso comprised his final Q2 lap when he ran wide over a kerb and thus had to settle with P12. Nelson Piquet, in the sister R28 also had a bad qualifying session and will start the Valencia race down in P15.
But the most disappointing driver of all was Jenson Button. The Honda star was showing strong pace during the run-up to the all-important qualifying session but was shocked to be knocked out as early as Q1. Jenson will start the race down in P16 with team-mate Rubens Barrichello even further behind.
Even though the drivers have no prior knowledge around this new street circuit, it's incredible that nobody had any significant incidents during the past two days at Valencia. This might change on Sunday with the possibility of rain and safety car periods.
Starting grid for the European Grand Prix:
1. Massa Ferrari 1:38.989
2. Hamilton McLaren-Mercedes 1:39.199
3. Kubica BMW Sauber 1:39.392
4. Raikkonen Ferrari 1:39.488
5. Kovalainen McLaren-Mercedes 1:39.937
6. Vettel Toro Rosso-Ferrari 1:40.142
7. Trulli Toyota 1:40.309
8. Heidfeld BMW Sauber 1:40.631
9. Rosberg Williams-Toyota 1:40.721
10. Bourdais Toro Rosso-Ferrari 1:40.750
11. Nakajima Williams-Toyota 1:38.428
12. Alonso Renault 1:38.435
13. Glock Toyota 1:38.499
14. Webber Red Bull-Renault 1:38.515
15. Piquet Renault 1:38.744
16. Button Honda 1:38.880
17. Coulthard Red Bull-Renault 1:39.235
18. Fisichella Force India-Ferrari 1:39.268
19. Barrichello Honda 1:39.811
20. Sutil Force India-Ferrari 1:39.943