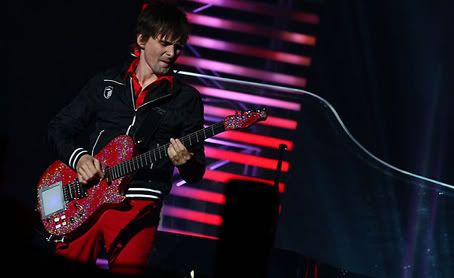 Picture: Andy Willsher
Last weekend, I went to Chelmsford (Essex) to attend the V Festival. I was feeling quite nervous that the wet British weather might spoil the event but in the end, it stayed dry with the sun just breaking out from the clouds.
The highlight of course was Muse. I still remember fondly the sell-out gig at Wembley last year and I was feeling pretty devastated when I missed out on the opportunity to see this fantastic band performing live at the Royal Albert Hall in London recently. (All the tickets were sold out within minutes!)
So I made amends by grabbing hold of those elusive V Festival tickets post-haste. I went for the Saturday only ticket but in hindsight, I should've gone for the weekend. That way, I get to see Muse performing twice!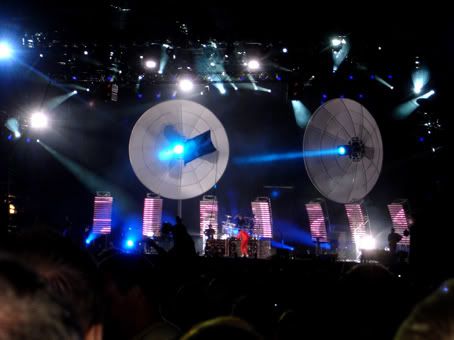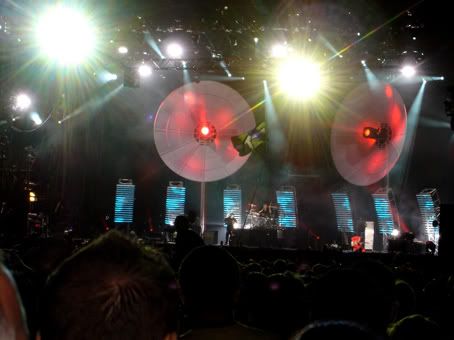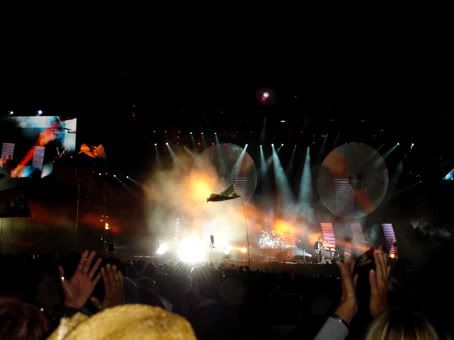 Light fantastic! Muse performing on the main V Stage on Saturday night.
And what a show it was on Saturday night! From the spectacular lighting effects and amazing guitar riffs from Matt Bellamy and Chris Wolstenholme – not forgetting the awesome drumming from Dom Howard – it was a breathtaking experience. Check out the video clips below.

Starlight

Stockholm Syndrome

Knights of Cydonia
As for the other bands, I was very impressed by Tokyo Police Club. I've never heard of them before but it didn't stop the Canadian band rocking in front of an enthusiastic audience! I was a little disappointed by Lost Prophets and Shed Seven (remember them?) as the sound was frankly appalling…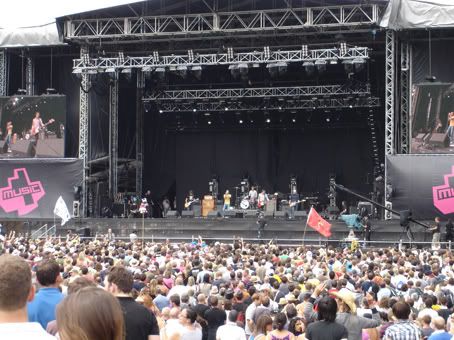 Shed Seven performing on the 4 Music stage. I can't hear you mate!
Other highlights at the V Festival? Well, how about my grand performance in front of a captive crowd while playing the drums on Rock Band? That's right. Thanks to the excellent music rhythm game on the Xbox 360, I was able to show off my drumming skills! Our band even played an encore because we were brilliant!
Seeing the Stereophonics playing some classic hits was really cool and the music from Julian Velard and the Lost Boys was surprisingly good.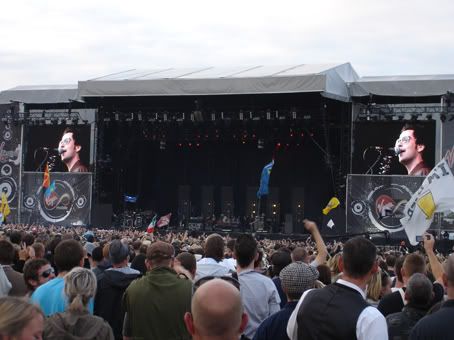 A nice photo of the crowd listening to the Stereophonics

Is that Jacques Villeneuve? No, it's Julian Velard. Very funny bloke and even the music sounded fab!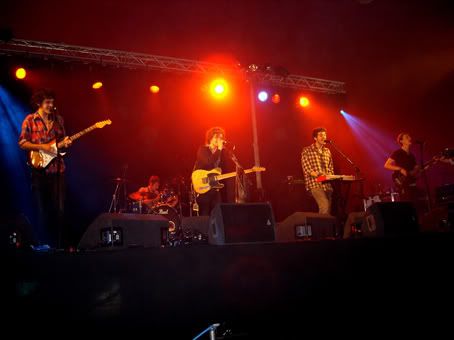 Not to be confused by the 1980s film with the same name… Here are the Lost Boys.
So a great weekend overall. I was little annoyed by the queues to get food and beer (not to mention the prices). Plus the clashing of Ian Brown and The Prodigy on different stages when Muse was on was a bit silly in my opinion – I really wanted to see Ian Brown, damn you organisers! Still, at least it wasn't muddy unlike in Staffordshire.