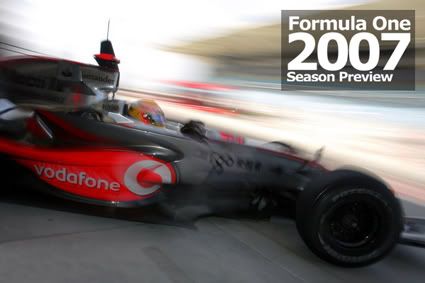 A new Formula One season is upon us and with new drivers joining new teams; this year's championship could be the most unpredictable in the 56 years of the sport. Seven times world champion Michael Schumacher has left Formula One after announcing his retirement late last year. His presence will be sadly missed on the grid this season but two likely drivers could take over the role as the greatest – Fernando Alonso and Kimi Raikkonen. Both superstars have switched teams for 2007, with the double world champion joining Team McLaren Mercedes and the Finn joining Scuderia Ferrari respectively. It will be fascinating to see how well these two drivers will get on racing in their new cars, the MP4-22 and F2007 in this 17-race calendar.
In addition, this year's grid will look very different to 2006. Most of the top teams are welcoming new drivers, including some top driving talent from the likes of Lewis Hamilton, Heikki Kovalainen and Adrian Sutil.
So what's new in F1 2007? What are the new rules and regulations and who will come out on top? All this will be revealed in this in-depth preview to the 2007 FIA Formula One World Championship.