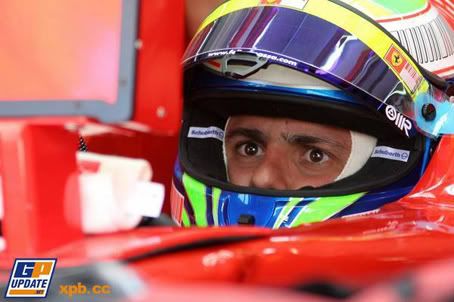 After the disappointment of Melbourne, Ferrari strikes back with a commanding performance in qualifying in Sepang, with Felipe Massa taking his second consecutive pole position.
The Brazilian lapped the Malaysian circuit with a time of one minute, 35.748 seconds, half a second quicker than his Ferrari team-mate Kimi Raikkonen. The margin between the pair suggest Massa is running light… No matter, the red cars were comfortably faster than the McLaren pair of Heikki Kovalainen and Australian Grand Prix winner Lewis Hamilton.
Unfortunately, the Woking team's prospect of challenging their main championship rivals took a dive after the race stewards decided to dock the McLaren drivers five places on the grid, for blocking other cars in Q3…
How did this happen? After completing their laps in Q3, both Heikki and Lewis started to save fuel by touring around the track at a reduced pace… on the racing line! This meant that faster drivers such as BMW Sauber's Nick Heidfeld and Renault's Fernando Alonso had to dodge through the field. This was unsporting and dangerous. The race stewards made the right call with McLaren accepting the punishment.
With the silver cars push down to eighth and ninth (Kovalainen and Hamilton respectively), the top ten of the grid move up two positions. Jarno Trulli – who was fastest of all in Q1 – is promoted to third for Toyota. Alongside the renowned qualifying expert is Robert Kubica in the BMW Sauber followed by team-mate Nick Heidfeld. Mark Webber lines up in an impressive sixth for Red Bull Racing with double world champion Fernando Alonso in seventh for Renault. Completing the top ten is Timo Glock in the second Toyota, just edging out Honda's Jenson Button.
After the highs of Melbourne, Williams' Nico Rosberg was frustrated by his qualifying pace and could do no better than P16. That is much better than his team-mate Kazuki Nakajima, who will start at the back following his ten-place grid penalty after crashing into Kubica last weekend… As for Nelson Piquet, the Renault driver seemed to be more comfortable here compare to Melbourne. The Brazilian was unlucky not to out-pace his team-mate Alonso and will line up in P13.
With the Ferraris up front and the McLarens down in the mid-field, Sunday's Malaysian Grand Prix will be fascinating. Heavy rain is expected during the course of the race and with no traction control, driving these powerful single-seaters in tricky conditions will certainly test the drivers' skills to the extreme!
Revised Malaysian Grand Prix starting grid
1. MASSA Ferrari 1:35.748
2. RAIKKONEN Ferrari 1:36.230
3. TRULLI Toyota 1:36.711
4. KUBICA BMW 1:36.727
5. HEIDFELD BMW 1:36.753
6. WEBBER Red Bull 1:37.009
7. ALONSO Renault? 1:38.450
8. KOVALAINEN McLaren* 1:36.613
9. HAMILTON McLaren* 1:36.709
10. GLOCK Toyota 1:39.656
11. BUTTON Honda 1:35.208
12. COULTHARD Red Bull 1:35.408
13. PIQUET Renault 1:35.562
14. BARRICHELLO Honda 1:35.622
15. VETTEL Toro Rosso 1:35.648
16. ROSBERG Williams 1:35.670
17. FISICHELLA Force India 1:36.240
18. BOURDAIS Toro Rosso 1:36.677
19. SATO Super Aguri 1:37.087
20. SUTIL Force India 1:37.101
21. DAVIDSON Super Aguri 1:37.481
22. NAKAJIMA Williams** 1:36.388
* Penalised 5 places for impeding Heidfeld
** Penalised 10 places for Melbourne incident