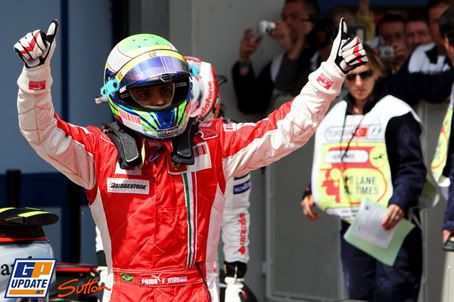 Ferrari's Felipe Massa achieved his third successive pole position after a dominant performance in qualifying at Istanbul Park.
The Brazilian, who is chasing a third straight victory on his favourite circuit, was comfortable the quickest driver on the challenging Hermann Tilke-designed race track. His time of one minute, 27.617 seconds was two-tenths of a second faster than the McLaren of Heikki Kovalainen – who bounced back in style after his big crash in last month's Spanish Grand Prix.
Kovalainen's car seemed to have a better balance over his team-mate Lewis Hamilton. The British driver was struggling with his Bridgestone and was disappointed that he could only set the third quickest time after making a bad choice over the hard compound tyres… But at least he will start the race ahead of the world champion, Kimi Raikkonen.
The Iceman couldn't match the pace compare to his Scuderia team-mate, but the differences could be down to different fuel load. Is Kimi running a longer first stint in the race? We shall see.
Robert Kubica lines up fifth on the grid for BMW Sauber with Mark Webber alongside him. It was a good result for the Australian after he damaged his Red Bull Racing against the Armco barrier during the practice session on Friday. Double world champion Fernando Alonso is in seventh position for Renault ahead of Jarno Trulli's Toyota and birthday boy Nick Heidfeld in the second BMW Sauber.
Rounding up the top ten is David Coulthard, who chose to save fuel and only did one qualifying run in Q3.
With the demise of Super Aguri, the qualifying format was tweaked to a new format with the five slowest cars dropping out in Q1 and Q2. This made life difficult especially for Kazuki Nakajima's Williams and Nelson Piquet in the Renault. The Japanese went into a spin exiting Turn 7 on his first Q1 run while the Brazilian was knocked out as the others improved in the final seconds of the session.
As for Giancarlo Fisichella, even though the Italian out-qualified his Force India team-mate Adrian Sutil by half a second, he will start behind the German thanks to his penalty for passing the pit exit red light at the start of Friday practice. It will be a tough race for Fisichella started from the back.
But all interest will be at the front. Can Felipe score his third successive win at the Turkish Grand Prix? Can the two McLarens find a way to prevent this and what about Raikkonen? Does the Finn have the speed to challenge for the win? Bring on race day!
Starting grid for the Turkish Grand Prix
1. MASSA Ferrari 1:27.617
2. KOVALAINEN McLaren 1:27.808
3. HAMILTON McLaren 1:27.923
4. RAIKKONEN Ferrari 1:27.936
5. KUBICA BMW 1:28.390
6. WEBBER Red Bull 1:28.417
7. ALONSO Renault 1:28.422
8. TRULLI Toyota 1:28.836
9. HEIDFELD BMW 1:28.882
10. COULTHARD Red Bull 1:29.959
11. ROSBERG Williams 1:27.012
12. BARRICHELLO Honda 1:27.219
13. BUTTON Honda 1:27.298
14. VETTEL Toro Rosso 1:27.412
15. GLOCK Toyota 1:27.806
16. NAKAJIMA Williams 1:27.547
17. PIQUET Renault 1:27.568
18. BOURDAIS Toro Rosso 1:27.621
19. SUTIL Force India 1:28.325
20. FISICHELLA Force India 1:27.807*
*Three-place grid penalty for passing red light at pit lane exit in practice