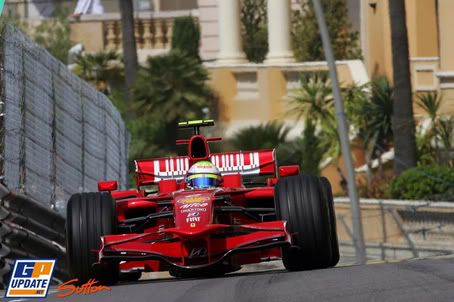 Ferrari arrived at Monte Carlo hoping for a much better showing than they managed last season when the McLarens ran rings around them with a perfect 1-2 result. Fast-forward twelve months on, not only have Scuderia improved on form with a quick and reliable car, but Felipe Massa and Kimi Raikkonen locked out the front row of the grid even though the McLarens were the pre-race favourite.
Indeed, Lewis Hamilton was the fastest driver around the streets of the Principality after setting the pace in the Mercedes-powered MP4-23 during opening practice on Thursday. You would expect the team and driver to continue this impressive form into the all-important qualifying session, but it seems their Italian rival have something up its sleeve in terms of outright performance.
With Felipe Massa scoring his third pole position of the season with a lap time of one minute, 15.787 seconds around the tight, twisty and challenging street circuit, it will be fascinating whether McLaren can fight back. World champion Kimi Raikkonen is alongside his team-mate with second position giving Ferrari its first front row start since 1979. By starting at the front, Ferrari will have the advantage in strategy and hopefully can end that winless streak at Monaco after six difficult years.
Championship challenger Lewis Hamilton was disappointed and shocked to only qualify in third. The McLaren driver admitted later on that he was losing time to the red cars in the middle sector of the lap, but he remains optimistic for the race ahead. His team-mate Heikki Kovalainen was only two-tenths of a second slower and will start the race in fourth.
Behind the two top teams in Formula One, Robert Kubica took his customary fifth position for BMW Sauber while Nico Rosberg carried his excellent practice form into qualifying with sixth for Williams. The British squad is celebrating its 600th Grand Prix and team boss Sir Frank Williams is hoping Rosberg can score some championship points in Sunday's Grand Prix.
Double world champion and two-time Monaco winner Fernando Alonso lines up in seventh for Renault despite a lack of speed and rear-end grip in the R28. Toyota's Jarno Trulli will start in eighth ahead of the Red Bull pair of Mark Webber and David Coulthard – ninth and tenth respectively.
In Coulthard's case, the Scot was unable to take part in the top-ten shootout for pole position after losing control of his car under braking at the sea front chicane. The Red Bull locked its rear brakes over a crest in the road and the car pitched right into the Armco and DC became a passenger as the car went out of control down an escape room… Luckily he was unhurt but the Red Bull RB4 suffered heavy damage.
Several drivers' last efforts in Q2 were affected when Coulthard struck the barrier. That left Nick Heidfeld down in P13 (his worst for 2008), both Hondas (Jenson Button and Rubens Barrichello, though the latter is under investigation by the race stewards for blocking one of Giancarlo Fisichella's laps in Q1), Kazuki Nakajima, and Timo Glock.
Nelson Piquet continued to struggle in qualifying after being knocked out in Q1. The Brazilian is under pressure to perform and it didn't help that he nearly damaged his car when exiting Portier during his fast lap… He will line up 17th on the grid.
Both of Scuderia Toro Rosso's new cars were also knocked out in the first round. Champ Car star Sebastien Bourdais was unlucky not to make it through, with his last lap just half a tenth slower than Kazuki Nakajima in 15th. Team-mate Sebastian Vettle was one-tenth slower and is in P18.
And bring up the rear, are the Force India drivers of Adrian Sutil and Giancarlo Fisichella. The 2008 Monaco Grand Prix is Fisichella's 200th Grand Prix but it was a frustrating session for the Italian. Not only was he given a five-pace penalty for changing the gearbox before qualifying, but he is under investigation over a blocking incident with Honda's Barrichello…
Sunday's Monaco Grand Prix will be an interesting contest between the top four drivers in Formula One. Felipe Massa might not be a fan of this street circuit but he will have the advantage of having a clear track in front of him. If the Brazilian wins, he will significantly reduce the points gap to world champion Kimi Raikkonen in the drivers' standings. For Raikkonen, the Finn has to challenge his team-mate for the race victory in order to sustain his championship lead. As for Lewis Hamilton, he wants that 'dream result' by winning for the team while McLaren team-mate Heikki Kovalainen is hoping that he has an opportunity to score that elusive first victory after a set-back race in Turkey.
There is a possibility of rain heading to Monte Carlo on Sunday and it should be a dramatic race if the heavens open… Without traction control, it will be a challenging task for the 20 drivers to control 700 brake horsepower around a twisting street circuit for 78 laps… Let's see what happens on race day!
Monaco Grand Prix grid
1. MASSA Ferrari 1:15.787
2. RAIKKONEN Ferrari 1:15.815
3. HAMILTON McLaren 1:15.839
4. KOVALAINEN McLaren 1:16.165
5. KUBICA BMW 1:16.171
6. ROSBERG Williams 1:16.548
7. ALONSO Renault 1:16.852
8. TRULLI Toyota 1:17.203
9. WEBBER Red Bull 1:17.343
10. COULTHARD Red Bull 1:15.839
11. GLOCK Toyota 1:15.907
12. BUTTON Honda 1:16.101
13. HEIDFELD BMW 1:16.455
14. NAKAJIMA Williams 1:16.479
15. BARRICHELLO Honda 1:16.537
16. BOURDAIS Toro Rosso 1:16.806
17. PIQUET Renault 1:16.933
18. SUTIL Force India 1:17.225
19. FISICHELLA Force India 1:17.823*
20. VETTEL Toro Rosso 1:16.955**
* Under investigating for blocking
** Penalised for gearbox change