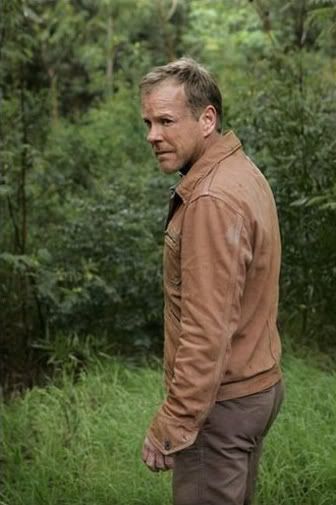 American action hero Jack Bauer returns in an upcoming movie that will bridge the sixth and seventh seasons of hit television drama 24.
Filmed on location in Cape Town, South Africa, and Los Angeles, 24: REDEMPTION stars Emmy Award winner Kiefer Sutherland along with new cast members Cherry Jones, Robert Carlyle, Gil Bellows and Academy Award winner Jon Voight.
After sacrificing everything for his country, Jack Bauer (Sutherland) is wanted by the U.S. government and now stands to lose the only thing he has left: his freedom.
Working as a missionary in Africa, Bauer is called upon to stop a ruthless warlord from drafting innocent children into his murderous militia. First, Jack must confront his own torturous past and face an impossible decision that will change his life forever.
A decision that will set the stage and raise the stakes for season seven, which debuts in January 2009.
Judging by this three-minute trailer (shown below), it's great to see the action shifting to new surroundings after six years in downtown LA. I am quite excited by this movie and it will certainly renew my interest in the show after that frustrating strike that postponed the new series last year. Bring on November 23rd!