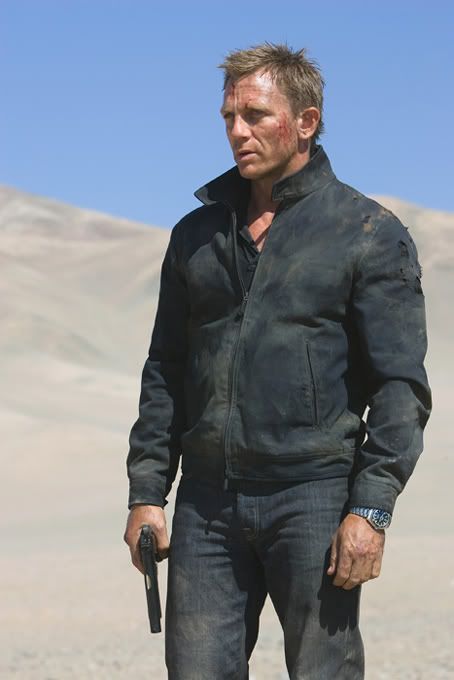 After the success of Casino Royale, where Commander James Bond earned his 'double-0' status and the license to kill, the direct sequel to the 2006 hit film that is Quantum of Solace proves to be a big disappointment.
The twenty-second Bond film from EON Productions, picks up almost an hour after the final scene in Casino Royale, where 007 is involved in a thrilling car chase.
This action sequence seems to set the mood in Quantum of Solace with exciting chases, gun action and impressive stunts. Unfortunately, after this opening scene the film lacks the thrill and drama due to the poor pacing. It doesn't help that the story continues from Casino Royale, where Bond is seeking revenge for the death of Vesper Lynd.
Daniel Craig once again plays the British secret agent and his performance continues to impress. He could easily be ranked – along with Sean Connery – as the best portray of Ian Fleming's spy. Though it is quite remarkable that the Bond character played by Craig has changed so much from Casino Royale to the Quantum of Solace.
In the first film, he still had the charisma from the other previous Bonds but with a more gritty realistic side to the character. In the Quantum of Solace, it seems the writers just couldn't decide if he's motivated by revenge or seeking solitude. Craig's second appearance reveals a more arrogant attitude that he becomes barely recognisable as Bond anymore… It seems he has became Jason Bourne and this is not surprising, as most of the action sequences feel likes it is taken from the Bourne films.
Some of these scenes do look good with quick editing/camera work followed by brutal, devastatingly fistfights and chases. But this style of filming just doesn't fit in the style of previous Bond films. I believe director Marc Foster, who was behind such acclaim hits with Finding Neverland and The Kite Runner, wanted to continue the gritty feel set by Casino Royale, but it fails to generate excitement.
As for the supporting cast, Dame Judi Dench returns as M but she feels unease by Bond's action as he travels around the world searching for answers behind the secret organisation known as Quantum.
Dominic Greene, a member of this secret organisation, is played by the award-winning French actor Mathieu Amalric. Greene's idea of taking control over Bolivia's water supply can be seen as quite tame by evil villain standards but he remains a threat to 007.
Olga Kurylenko plays Camille Montes, a Russian-Bolivian agent who also has a grudge against Greene and Quantum. When she and Bond meet, the chemistry is there and it certainly sizzles up on the big screen. Kurylenko is no typical Bond girl as she is capable of some action and was able to demonstrate this in some scenes with some brutal fighting sequences.
As for Gemma Arterton, playing the role of MI6 agent Strawberry Fields, her cameo was quite brief and not that memorable unfortunately.
In summary, the Quantum of Solace promises so much but fails to deliver in terms of drama and spectacle. With a running time of 106 minutes, this is the shortest Bond film in the series. I really hope James Bond returns in the next film back to his truth self and not a clone of Jason Bourne following this overhyped and disappointing film.