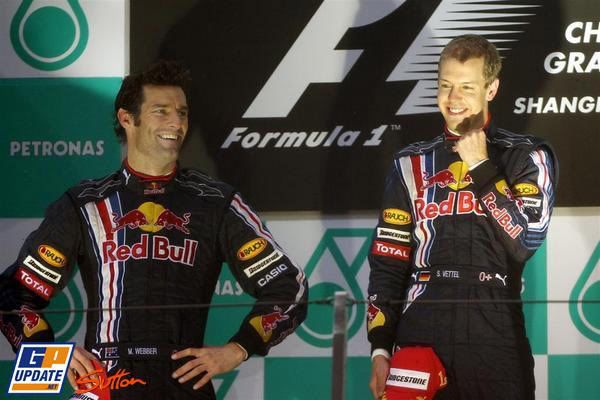 Sebastian Vettel started from pole position at Monza last year, and won. The young German again started from the top spot and after nearly two hours of error-free perfection in the tricky wet conditions at the Shanghai International Circuit, Vettel led home team-mate Mark Webber to a fantastic one-two result for Red Bull Racing.
This was a superb result by the drivers and the Milton Keynes-based team. After competing in five seasons in Formula One, to finish in the top two podium positions and not forgetting securing its first pole, is a remarkable achievement. Team owner Dietrich Mateschitz and team principal Christian Horner, plus chief designer Adrian Newey should be proud of this performance.
Championship leader Jenson Button was unable to challenge the 'charging' Red Bulls in China and could only manage third, ahead of his Brawn GP team-mate Rubens Barrichello – who incidentally set the quickest lap of the race.
And continuing the team formation finish, McLaren's Heikki Kovalainen was relieved to have completed a racing lap after two early exits in Australia and Malaysia. The Finn finished ahead of Lewis Hamilton, who had an eventful race in the sister car, running off the track and spinning several times.
The race began after eight laps under the safety car period due to the wet and windy conditions. When DTM ace Bernd Maylander pulled his Mercedes-Benz safety car back to the pits, the Red Bulls led until their first refuelling stops, with Webber in on lap 14 followed by Vettel a lap later.
That put series leader Jenson Button into the lead after the Briton passed his Brawn GP team-mate Rubens Barrichello on the eleventh lap. Behind them, there was an exciting battle in the mid-field with McLaren's Lewis Hamilton and Ferrari's Felipe Massa on the move.
The world champion climbed up to fifth spot but then spun down to tenth on lap 11. If Lewis wanted to score some decent amount of points, he needed to work his way up again. By the time the safety car made its second appearance (on lap 18), the McLaren driver was back up to eighth.
The safety car was called out due to an accident involving the BMW Sauber of Robert Kubica slamming hard into the back of Jarno Trulli's Toyota. It seems Trulli was being extra caution in the final corner and the unsighted Kubica had no room to avoid the slow moving car. Amazingly, the BMW was able to continue despite the heavy damage and with two changes to the front wing, the Polish driver went on to finish P13. Not so for Trulli, who was forced to retire.
But while the slow and broken Toyota was making its slow trip back to the pit lane, Formula One rookie Sebastien Buemi ran into the back of Vettel, damaging his Toro Rosso's front wing. The Swiss was unable to see due to the spray, but somehow his crash didn't cause a double retirement for the energy-drink sponsored teams.
While running under the safety car, the Ferrari of Felipe Massa was forced to stop after the F60 encounter a mechanical problem, resulting in no drive. It was another disappointing end for the Brazilian with zero points after three races.
Vettel now headed the field as the racing resumed and the speed in that leading Red Bull was astonishing. The German pulled out 4.3 seconds on the first green lap alone, then proceeded to stroll away around one to two seconds per lap throughout the middle stint of the 56-lap race. Button was unable to respond and came under heavy pressure from Mark Webber.
The Australian grabbed second when Button missed his braking point and ran wide at the hairpin on lap 28. Now it was a Red Bull one-two, but Button snatched second back two laps later when Webber ran wide in the final corner on a track slippier than a skating rink!
Not to be outdone, Webber snatched the place back within a lap with a terrific around-the-outside manoeuvre at turns 7 and 8. Even Button was shocked to see the Red Bull being able to pass him in this sequence of corners.
Vettel made his final pit stop five laps earlier than Button, and rejoined right behind the Brawn GP. With Jenson still needing to pit again, Vettel was virtually assured of the victory from that moment, but still made certain of it by out-braking Button into the hairpin on lap 40.
It was a perfect overtaking manoeuvre, reminiscent of fellow countryman Michael Schumacher in his heyday.
Button pitted on lap 42 and dropped down to third, and for the first time this season Brawn GP did not look like the pacesetter.
That was Adrian Newey's RB5 design, powered by the Renault engine. Vettel and Webber had no trouble reeling off the remaining laps to a great triumph as Button finished in a distant third.
Both McLarens finished, Heikki Kovalainen heading Hamilton. The Finn made no mistakes, but Lewis had several off track moments on his way to sixth. Behind the world champion, Toyota's Timo Glock fought his way back up to seventh for Toyota (after starting from the pit lane after a gearbox penalty) ahead of the again impressive Toro Rosso's Sebastien Buemi, who withstood a lot of pressure in difficult conditions to take the final championship point.
As for Fernando Alonso, who started the Chinese Grand Prix second on the grid, the Renault driver was disappointed to finish in ninth. The opening eight laps behind the safety car ruined his race strategy and it was an uphill struggle for the Spaniard.
At least he was more competitive than the other world champion, as Kimi Raikkonen had a miserable afternoon in the Ferrari. The Iceman struggled in the wet conditions and came home in tenth.
With two non-finishes in China, Ferrari are having their worst start in Formula One season since 1981 as Raikkonen and Massa failed to score for the third race in a row.
The defending constructors' champions reacted to their non-scores in Australia and Malaysia by shifting Luca Baldisserri off the pit wall and promoting Chris Dyer in his place. They also decided not the use their KERS this weekend.
But it didn't stop the rot. Felipe Massa had a strong start to the race, making up places in the early stages, but came to a halt on lap 20 with a car problem.
Raikkonen, meanwhile, never really figured – losing a lot of places in the opening laps and finishing in tenth, ahead of the double spinner Sebastien Bourdais (Toro Rosso).
The unlucky Adrian Sutil was again denied a points finish, after aquaplaning into the barriers with only five laps to go… It ended another exemplary wet weather drive from the German, and denying Force India its first ever points.
Kazuki Nakajima made several errors in the Grand Prix and was forced to retire in the pits, while his Williams team-mate Nico Rosberg fared less well after a late gamble on intermediate tyres failed to pay off. Rosberg went on to finish in a poor 15th position.
As for Nelson Piquet Jr, this was another disastrous day. His Renault required a total of three nose sections after spinning first into a marker board and later into a barrier. Surely, Flavio Briatore is losing patience with this young Brazilian?
Anyway, despite finishing on the bottom step of the podium Button extends his drivers' championship lead to 21 points, ahead of Barrichello on 15, Vettel on 10, and Webber on 9.5.
Race results from Shanghai, 56 laps:
1.  Vettel        Red Bull-Renault       1h57:43.485
2.  Webber        Red Bull-Renault        +10.970
3.  Button        Brawn GP-Mercedes      +44.975
4.  Barrichello   Brawn GP-Mercedes       +1:03.704
5.  Kovalainen    McLaren-Mercedes        +1:05.102
6.  Hamilton      McLaren-Mercedes        +1:11.866
7.  Glock         Toyota                  +1:14.476
8.  Buemi         Toro Rosso-Ferrari     +1:16.439
9.  Alonso        Renault                 +1:24.309
10.  Heidfeld      BMW Sauber              +1:31.750
11.  Bourdais      Toro Rosso-Ferrari     +1:34.156
12.  Raikkonen     Ferrari                +1:35.834
13.  Kubica        BMW Sauber              +1:46.853
14.  Fisichella    Force India-Mercedes    +1 lap
15.  Rosberg       Williams-Toyota        +1 lap
16.  Piquet        Renault                +2 laps
Fastest lap: Barrichello, 1:52.592
Not classified/retirements:
Sutil         Force India-Mercedes     51 laps
Nakajima      Williams-Toyota         44 laps
Massa         Ferrari               23 laps
Trulli        Toyota                 19 laps
World Championship standings, round 3:
Drivers:
1.  Button        21
2.  Barrichello   15
3.  Vettel         10
4.  Glock        10
5.  Webber       9.5
6.  Trulli       8.5
7.  Alonso         4
8.  Heidfeld       4
9.  Hamilton       4
10.  Kovalainen     4
11.  Rosberg       3.5
12.  Buemi          3
13.  Bourdais       1
Constructors:
1.  Brawn GP-Mercedes      36
2.  Red Bull-Renault       19.5
3.  Toyota                 18.5
4.  McLaren-Mercedes        8
5.  Renault                 4
6.  Toro Rosso-Ferrari      4
7.  BMW Sauber              4
8.  Williams-Toyota         3.5
Next race: Bahrain Grand Prix, Sakhir. April 24-26.