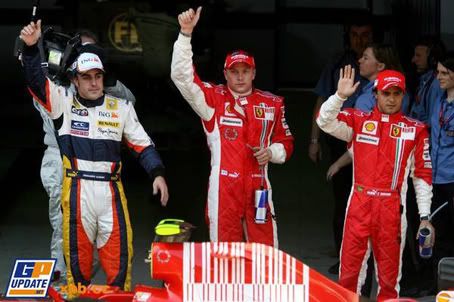 Ferrari's Kimi Rakkonen recorded his first pole position of the season by snatching the top spot from home crowd favourite Fernando Alonso in a dramatic qualifying session at the Circuit de Catalunya.
It was the Iceman's 15th career pole position and with his main championship rival Lewis Hamilton down in fifth, the Finn has the advantage to extend his points lead if he wins at Barcelona. The sister Ferrari of Felipe Massa will start in third ahead of Robert Kubica in the BMW Sauber.
On row three are the two McLarens with Hamilton and team-mate Heikki Kovalainen. It was a disappointing performance from both drivers and Lewis even admits that the pace of the cars ahead shocked him! The British star will need to regain his composure and mount a challenge to score some valuable points in the race on Sunday.
As for Fernando Alonso, this was a fantastic achievement from the double world champion and the Renault team. The improvements to the R28 chassis over the last three weeks (in particular the new aerodynamic kit) have certainly improved the competitiveness of the team and Alonso was highly emotional after qualifying in second. He would have grabbed a shocking pole but the Spaniard is more than pleased to start ahead of his old team McLaren on the grid.
Even his team-mate Nelson Piquet put in a superb performance by qualifying in the top ten for the very first time this season. The Brazilian will line up in tenth position behind Mark Webber's Red Bull, Toyota's Jarno Trulli and Nick Heidfeld in the other BMW Sauber (seventh, eighth and ninth respectively).
The Spanish Grand Prix on Sunday will be a fascinating contest to see who is running what on fuel strategy. Are Renault running light or have they got genuine pace to match Ferrari, McLaren and BMW? Can Kimi score his second victory? Will we see a fight back drive from Lewis? We will find out this and more in tomorrow's race at the Circuit de Catalunya.
Starting grid for the Spanish Grand Prix
1. RAIKKONEN Ferrari 1:21.813
2. ALONSO Renault 1:21.904
3. MASSA Ferrari 1:22.058
4. KUBICA BMW 1:22.065
5. HAMILTON McLaren 1:22.096
6. KOVALAINEN McLaren 1:22.231
7. WEBBER Red Bull 1:22.429
8. TRULLI Toyota 1:22.529
9. HEIDFELD BMW 1:22.542
10. PIQUET Renault 1:22.699
11. BARRICHELLO Honda 1:21.049
12. NAKAJIMA Williams 1:21.117
13. BUTTON Honda 1:21.211
14. GLOCK Toyota 1:21.230
15. ROSBERG Williams 1:21.349
16. BOURDAIS Toro Rosso 1:21.724
17. COULTHARD Red Bull 1:21.810
18. VETTEL Toro Rosso 1:22.108
19. FISICHELLA Force India 1:22.516
20. SUTIL Force India 1:23.224
21. DAVIDSON Super Aguri 1:23.318
22. SATO Super Aguri 1:23.496