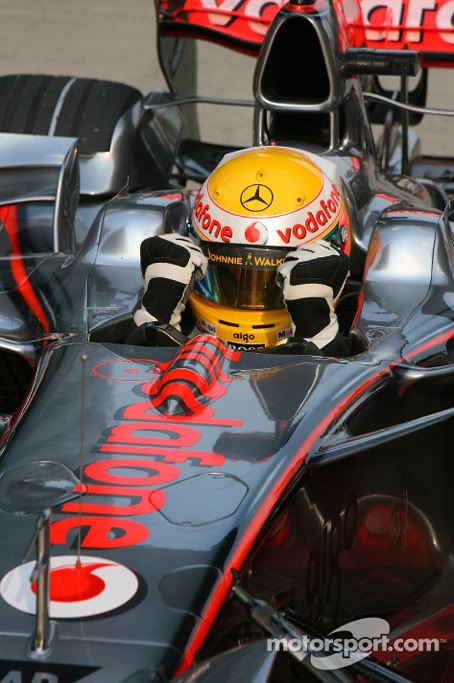 Lewis Hamilton boosted his world championship prospect of claiming the drivers' title by taking a vital pole position in the Chinese Grand Prix at the Shanghai International Circuit.
Though at one point in the all-important top-ten shootout, the McLaren driver was in a provisional fifth after making a mistake during the middle sector on his first run in Q3. Lewis was able to recover with style by securing the top spot by over three tenths of a second beating crucially the two Ferraris of Kimi Raikkonen and Felipe Massa, second and third respectively.
Hamilton had earlier dominated the two Friday practice sessions with his impressive speed around the 3.387-mile race track. He continued this strong pace into qualifying and by taking his 13th career pole with a time of one minute, 36.303 seconds; the Briton has the best opportunity in taking his first drivers' championship in China this weekend.
Kimi Raikkonen lines up alongside Hamilton in a re-run of last Sunday's Fuji grid. Hopefully the championship leader has learned his lesson by not making the same mistake twice that cost him valuable points by going too hot into the first corner…
Hamilton's main title rival Felipe Massa could only managed third while Robert Kubica – who was an outside contender for the title – ended up in a disappointing 11th position on the grid. The BMW Sauber driver had been unhappy since opening practice complaining about the car's balance and by starting in 11th position – the worst qualifying position in his Formula One career – Kubica's chances of fighting for the title is now effectively over.
Double world champion Fernando Alonso will start in fourth for Renault and earlier this week, the Spaniard has vowed to help out in every opportunity for Ferrari and Massa to win the world championship. What could Alonso do in China? Can he go for a third straight victory?
Lewis will better watch out from his old nemesis and it certainly didn't help that his McLaren team-mate Heikki Kovalainen ended up in a disappointing fifth. The Finn had held provisional pole early in Q3, but was unable to improve on his second run and fell four places.
Red Bull Racing's Mark Webber took sixth, but will lose the place and drop down to 16th because of his engine-change penalty incurred when his Renault V8 blew up in practice. This elevates Nick Heidfeld into the top six for BMW Sauber but was later penalised for impending Webber's team-mate David Coulthard in Q1!
So sixth place went to Sebastian Vettel for Toro Rosso, with his team-mate Sebastien Bourdais in eighth. Between them is Toyota's Jarno Trulli.
And rounding out the top ten is a penalised Heidfeld with Nelson Piquet Jr lining up alongside for Renault.
Sunday's Chinese Grand Prix could be the race in which Lewis Hamilton could seal his first drivers' title providing he finishes at least six points ahead of Felipe Massa. The Briton will be hoping he can eliminate that costly error in last year's Grand Prix when he retired in the gravel trap after staying out too long on wore-out Bridgestones… Can Lewis do it and score that all-important title? Or will the Ferraris of Raikkonen, Massa and possibly the joker in the pack, Alonso stop his dream of claiming the championship? Let's see on race day.
Qualifying times for the Chinese Grand Prix:
1. Hamilton McLaren-Mercedes 1:36.303
2. Raikkonen Ferrari 1:36.645
3. Massa Ferrari 1:36.889
4. Alonso Renault 1:36.927
5. Kovalainen McLaren-Mercedes 1:36.930
6. Vettel Toro Rosso-Ferrari 1:37.685
7. Trulli Toyota 1:37.934
8. Bourdais Toro Rosso-Ferrari 1:38.885
9. Heidfeld BMW Sauber 1:37.201*
10. Piquet Renault 1:35.722
11. Kubica BMW Sauber 1:35.814
12. Glock Toyota 1:35.937
13. Barrichello Honda 1:36.079
14. Rosberg Williams-Toyota 1:36.210
15. Coulthard Red Bull-Renault 1:36.731
16. Webber Red Bull-Renault 1:37.083**
17. Nakajima Williams-Toyota 1:36.863
18. Button Honda 1:37.053
19. Sutil Force India-Ferrari 1:37.730
20. Fisichella Force India-Ferrari 1:37.739
*Drops three places because of impeding another driver in qualifying.
**Drops ten places because of an engine penalty.