It's that time of year again, a new Formula One season is upon us and with new drivers joining new teams – this year's world championship could be the most dramatic and unpredictable in the 57 years of the sport. With the spygate controversy and messy politics left thankfully behind, it's a good opportunity to look ahead to what this year's championship has in store.
Ferrari and Kimi Raikkonen will be determined to keep their title honours after winning last year's championship against the highly competitive McLarens. The season long battle with double world champion Fernando Alonso, rising star Lewis Hamilton and the 'Iceman' Raikkonen were the highlight of the racing season. It was a fascinating contest between these top quality drivers going for race victories last year and 2008 will provide even more spectacular action!
For Raikkonen, the Finn was ecstatic to finally win the drivers' crown after several years of trying. Last season will be remembered for his sheer determination by driving flat out all the time! Despite struggling in the early part of 2007 with the new Ferrari… After the Finn has overcome his problems with the characteristics of the Bridgestone controlled tyres and the F2007, the Iceman was achieving some quite extraordinary results. To win the title in that gripping season finale in Sao Paulo was unbelievable. All odds were against him and yet the Finn focused on what was on hand and after two hours of some quality driving, he finally did it! Now the next challenge is to defend his title honours.
Lewis Hamilton may have missed out on winning the drivers' title in his first season of racing in Formula One, but he shouldn't feel disappointed, as his performance at McLaren was nothing short of remarkable. In fact, he scored four impressive race wins and came within a grasp of winning the ultimate prize in the sport in his rookie season. This year will provide him a better opportunity as the British star has the experience of knowing all the tracks and his rivals. It is now down to McLaren in providing a race-winning car to challenge the Finn.
And what about Alonso? Well, the Spaniard has returned back to his 'spiritual home' team that is Renault after a traumatic season at McLaren last year. It didn't help that Fernando requested to have number one status at Ron Dennis' team even though the team boss prefers equal status for its drivers… And as for his team-mate Hamilton, the British driver proved to be too hot to handle by out-qualifying and out racing him in several events. In addition, the whole Hungarian Grand Prix bust-up was the major turning point in his decision to jump ship and return back to Renault…
And yet sadly, 2007 will always be remembered by the politics and the outrageous spy scandal that dominated the racing action. The main talking point was the espionage controversy involving Ferrari and McLaren, which led to McLaren being excluded from the constructors' championship and fined a record $100 million for having obtained knowledge on Ferrari technical data… There is still a debate to this day whether or not the team are guilty.
So that was a brief recap on last season's championship. What can we expect to see in F1 2008? What are the new rules and regulations and who will come out on top? All this will be revealed in this in-depth preview to the 2008 FIA Formula One World Championship.

NEW LOOK TO FORMULA ONE
This season will see two new street circuits as the championship aims to broaden its horizon of reaching out to new Formula One fans. The two races will take place at Valencia (the new European Grand Prix) and Singapore. In fact, the Singapore Grand Prix will be the first to be staged at night to cater towards the European audience with a suitable television time slot to watch the race live (instead of in the middle of the night).
In addition to the new events, the FIA has banned traction control and introduce the standard ECU (Engine Control Unit), a four-race gearbox and other technical changes in an aim to cut cost. More information on the rule changes will be explained below.
New drivers will be also making the grade in Formula One this season, with Nelson Piquet Junior (the son of three times world champion Nelson Piquet) joining Renault after being promoted from his test driver routines. After making his race debut in Brazil last year, Japanese racer Kazuki Nakajima is now retained at Williams full-time. Ex-Jordan driver Timo Glock is back in Formula One. The German will race for Toyota. And finally, four times Champ Car champion Sebastien Bourdain will be making his F1 appearance at Scuderia Toro Rosso.
As for the teams, Force India F1 is a new entry to this year's championship. The former Jordan, Midland and Spyker squad has been brought out by Indian billionaire Vijay Mallya, who has invested a serious amount of money to make this race team become more competitive. The first step towards this is hiring race winner Giancarlo Fisichella. The Italian will be able to provide valuable feedback to Force India F1 with his experience in a race winning team – Renault.
RULE CHANGES
A number of changes to both the sporting and technical regulations have been made by the FIA (the sport's governing body) for the 2008 Formula One season. Several of these modifications have attracted a lot of attention – in particular the traction control ban, but what other changes are going to have the biggest impact on F1 this year? Here's a quick look at some of the rules changes for this season:
Engine development freezes – Teams must use the same engines in 2008 as they did last season, with the development restricted to a small number of parts. The freeze is expected to last at least five years (not the original ten) and by 2009 all the teams will be required to use Kinetic Energy Recovery Systems (KERS) in a way of promoting greener racing.
Standard engine control unit – All teams are required to use a standard engine control unit supplied by Microsoft McLaren Electronic Systems. The purpose of this is to allow the sport's governing body to enforce a ban on driver aids such as traction control. In addition, it will limit the teams' abilities to run electronic engine braking systems.
The net result means cars are more difficult to drive and therefore provide more opportunities for mistakes. This has caused some drivers to be deeply concerned about the safety in driving in extreme wet conditions, such as the Fuji race last season…
Restrictions on materials – As a cost cutting measure the teams have been limited to using a restricted range of materials in the building of their cars.
Biofuel – The cars' fuel must be a minimum of 5.75% biofuel. This will allow Formula One cars to be in line with new road cars that will have the same requirement from 2010.
Four-race gearboxes – Gearboxes must now last four races without being changed. Teams can still change the clutch, oil, oil filters and associated system, hydraulics not related to gear shifting, and parts mounted to the casing that do not handle gear selection. Ratios can be changed to help tune a car to a particular circuit.
Changing a gearbox will incur a five-place grid penalty at the event where a driver changes gearbox. A further gearbox replacement results in a fresh penalty. If a driver fails to finish a race, "for reasons beyond the control of the team or driver," they may fit a fresh gearbox for the next event without incurring a penalty.
Increased head protection – The cockpit sides have been raised to give drivers better head protection, making the profile of the cars noticeably different this season. The issue was first raised following Alexander Wurz and David Coulthard's crash in last year's Australian Grand Prix. Tall cockpit sides were first introduced in 1996.
Engine replacement penalties – The ten-place grid penalty for changing a two-race engine remains, but drivers will not incur that penalty for a first offence.
Testing, promotion and young drivers – Teams can run promotional days and try out young drivers without it counting towards their limit of 30,00 km of testing.
Restrictions on spare cars – Teams can only have two cars assembled at any one time during a Grand Prix weekend and the race stewards will consider a "partially assembled survival cell…fitted with an engine, any front suspension, bodywork, radiators, oil tanks or heat exchangers" to be a car.
Qualifying restrictions – It is expected that the teams will run shorter first stints in the races. It should also greatly reduce the amount of time spent in the tedious 'fuel burn' phase at the start of the third part of qualifying, but it is uncertain if the teams adopt this strategy…
Right we covered the basis of the new Formula One season, so let's turn our attention to the drivers and teams.
THE FORMULA ONE GRID
Team: Scuderia Ferrari Marlboro Chassis: F2008 Engine: Ferrari 056 Web: www.ferrariworld.com 2007 results: 1st, 204 points
Car number 1 – Kimi Raikkonen (2007 results: 1st, 110 points) www.kimirakkionen.com
Car number 2 – Felipe Massa (2007 results: 4th, 94 points) www.felipemassa.com
After taking the title double in dramatic circumstances in 2007, Ferrari will be focused on keeping the winning form by having the fastest car and the best driver scoring more victories this season. The team are already the season's favourites after setting some impressive lap times during winter testing and with a slight change in the management line-up (Stefano Domenicali taking over Jean Todt's role as sporting director), the momentum for success is looking bright for the Italian squad. Raikkonen will face the pressure of defending his title driving car number one, while his Brazilian team-mate Felipe Massa will play a supporting role. Massa could in fact go for the title himself, providing he doesn't suffer any bad luck during the course of the season… Yet more wins and possibly the chance of another title are on the cards again for the Maranello-based squad.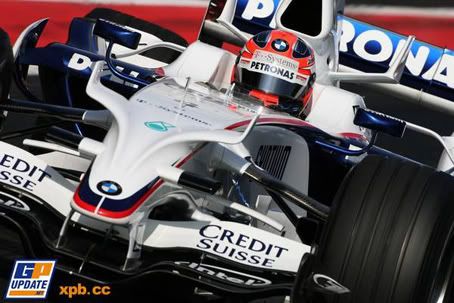 Team: BMW Sauber F1 Team Chassis: F1.08 Engine: BMW P86/8? Web: www.bmw-sauber-f1.com 2007 results: 2nd, 101 points
Car number 3 – Nick Heidfeld (2007 results: 5th, 61 points) www.nickheidfeld.com
Car number 4 – Robert Kubica (2007 results: 6th, 39 points) www.kubica.pl
By virtue of McLaren excluded from last season's championship BMW-Sauber have been elevated to second place overall in the team's standings. But that slightly flatters the German squad that only scored two podiums last season (Nick Heidfeld was second in Canada and third in Hungary). Despite that, BMW are starting to creep closer towards the two front running teams of McLaren and Ferrari with a solid and reliable car. But unlike last season, the new F1.08 car doesn't seem to give confidence to the drivers, Heidfeld and Robert Kubica respectively… The target for Mario Theissen, BMW motorsport director, is still that elusive race victory but questions are being asked if 'Quick' Nick and Kubica can provide that winning performance… Regardless of this, I expect the team to challenge for regular points finish and the odd podium finishes.
Team: ING Renault F1 Team Chassis: R28 Engine: Renault RS27 Web: www.ing-renaultf1.com 2007 results: 3rd, 51 points
Car number 5 – Fernando Alonso (2007 results: 3rd, 109 points) www.fernandoalonso.com
Car number 6 – Nelson Piquet Junior (2007 results: N/A) www.nelsonpiquetjr.com
After a lacklustre season for the 2005-2006 champions, the team are pleased to welcome back double world champion Fernando Alonso in the hope of returning back to winning ways. It will be an uphill struggle for Alonso as Renault suffered a setback in the development of last year's chassis due to unseen circumstances in the wind tunnel… In addition, the team were found guilty of possession of McLaren technical data late last year, but unlike McLaren, didn't face the wrath of the FIA with a heavy fine or exclusion from the championship… Nevertheless, Renault weren't pleased with the racing performance in 2007 with only Heikki Kovalainen's podium finish in Fuji. So can Alonso make Renault winners again? I must admit it will be a tall order. The new RS28 is of yet, unable to lap within the same lap times as the front runners but it will be fascinating over the course of the season if the driver and team can close the performance gap to McLaren and Ferrari. As for Nelson Piquet Jr, the Brazilian will face a challenging task of racing against a world champion but considering how enthusiastic he is looking forward to racing, I predict he will do a better job in keeping Alonso on his toes with some impressive qualifying and race results.
Team: WilliamsF1 Team Chassis: FW30 Engine: Toyota RVX-08 Web: www.williamsf1.co.uk 2007 results: 4th, 33 points
Car number 7 – Nico Rosberg (2007 results: 9th, 20 points) www.nicorosberg.com
Car number 8 – Kazuki Nakajima (2007 results: n/a) www.kazuki-nakajima.com
2008 will be the year in which Williams will celebrate many milestones in competing in Formula One including Frank Williams and Patrick Head's 500th Grand Prix partnership. It may not have a major manufacturer backing it (still using customer Toyota engines), but the team's desire to return back to winning ways is burning stronger than ever. Nico Rosberg resumes his number one status at the team, with Japanese newcomer Kazuki Nakajima as his team-mate. It will be interesting if Nakajima has the speed to match the super fast Rosberg. If not, then expect Williams to replace him with a Michael Schumacher protégé that is Nico Hülkenburg…
Team: Red Bull Racing Chassis: RB4 Engine: Renault RS28 Web: www.redbullf1.com 2007 results: 5th, 24 points
Car number 9 – David Coulthard (2007 results: 10th, 14 points) www.davidcoulthard-f1.com
Car number 10 – Mark Webber (2007 results: 12th, 10 points) www.markwebber.com
Red Bull Racing have the potential to become the best of the rest in the highly intense midfield battle, but can Adrian Newey's new car delivery results for David Coulthard and Mark Webber? Judging by the winter testing, the new Renault-powered RB4 seems to more reliable that last year's car and if the aero development continues throughout the course of the season, then expect some strong points finishes for the team. Race winner David Coulthard still has the enthusiasm to compete despite the rumours that he is set to retire… As for Mark Webber, the Australian is becoming impatience to achieving a good result after so many missed opportunities. These two experienced drivers will once again push Red Bull Racing forwards but will we see that elusive first win in 2008? Hard to say, but you will never know!
Team: Panasonic Toyota Racing Chassis: TF108 Engine: RVX-08 Web: www.toyota-f1.com 2007 results: 6th, 13 points
Car number 11 – Jarno Trulli (2007 results: 13th, 8 points) www.jarnotrulli.com
Car number 12 – Timo Glock (2007 results: N/A) www.timoglock.de
The car giant has been competing in Formula One for six years now and after spending millions year after year, the Japanese squad has still yet to achieve the ultimate prize… Even the team principal and chairman Tadashi Yamashina is beginning to lose patience and has expressed that if Toyota doesn't improve in a short space of time, it might even pull the plug on Formula One… Well at least the team got rid of Ralf Schumacher! The German was simple inadequate last season, not even scoring a point, so it's a welcome relief that Timo Glock is the new replacement driver. Glock last raced in Formula One with Jordan back in 2004. Since then he has now got more racing experience – thanks to his stint in GP2 and Champ Car – under his belt so expect the German to push team-mate Jarno Trulli with consistent top ten finishes. That will be a good opportunity for Trulli, as he needs to shake off that tag of being super quick in qualifying but so damn slow in the race… If the new Toyota TF108 is competitive then Jarno will do the job well, if not then expect to see a train of cars behind the Italian yet again… It is make or break for Toyota this season.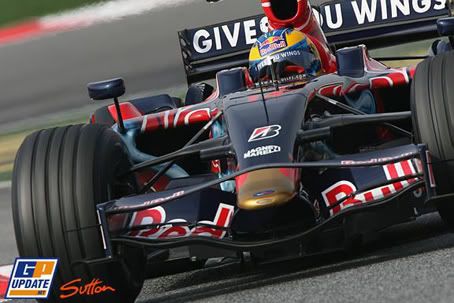 Team: Scuderia Toro Rosso Chassis: STR02B Engine: Ferrari 058 Web: www.redbullf1.com 2007 results: 7th, 8 points
Car number 14 – Sébastien Bourdais (2007 results: N/A) www.sebastien-bourdais.com
Car number 15 – Sebastian Vettel (2007 results: 15th, 6 points) www.sebastianvettel.de
All change at the Red Bull B-team. The Sebs will provide an intriguing prospect to team co-owners Dietrich Mateschitz and Gerhard Berger this season. For Bourdais, the four-times Champ Car champion, finally gets his chance of fulfilling his dream of racing in Formula One. It will be interesting how the Frenchman will cope in running in the midfield instead of up-front in America. In addition, he might have to adapt his driving style to become more smooth and consistent when driving these groove tyre and non-traction control racing cars… As for Vettel, the young German had a remarkable season with the low point crashing into team-mate Mark Webber in the chaotic wet Fuji race behind the Safety Car to the tremendous high in scoring a points finish in China. Vettel has the talent and speed to push Toro Rosso forwards but does Mateschitz has the passion to put more money in the team to achieve this success? Only time will tell but at least the driver front looks rather special compare to Scott Speed and Vitantonio Liuzzi last season…
Team: Honda F1 Racing Team Chassis: RA108 Engine: Honda RA808E Web: www.hondaracingf1.com 2007 results: 8th, 6 points
Car number 16 – Jenson Button (2007 results: 15th, 6 points) www.jensonbutton.com
Car number 17 – Rubens Barrichello (2007 results: 20th, 0 points) www.barrichello.com.br
Honda suffered a disastrous season with the evil-handling RA107. Both Jenson Button and Rubens Barrichello struggled in the nervous car. The only highlight for the Japanese team was Jenson's fifth placed finish in China… With Ross Brawn joining the squad for 2008, bring his knowledge from Ferrari, Honda are optimistic for the season ahead. But judging by the winter testing with the new RA108, it seem to be another difficult year… Hopefully Brawn's influences can turn the team around over the course of the season but he stated that his focus is preparing 2009 with a competitive car… In the meantime, the environmentally themed Honda will be hoping to challenge the likes of Toyota, Red Bull Racing and possibly Williams. I don't know if Honda can sustain that performance every racing weekend to be honest…
Team: Super Aguri F1 Chassis: SA08 Engine: Honda RA807E Web: www.saf1.co.uk 2007 results: 9th, 4 points
Car number 18 – Takuma Sato (2007 results: 17th, 4 points) www.takumasato.org
Car number 19 – Anthony Davidson (2007 results: 23rd, 0 points) www.anthonydavidson.com
Super Aguri has a race on its hands. Not against the likes of Toro Rosso or Force India F1, but to make it on the starting grid in Melbourne! The popular Japanese team are having great difficulties in acquiring sponsorship for the 2008 world championship and as I write this, team boss Aguri Suzuki is still negotiating a deal between potential partners… Suzuki has been saying that the team will be at the Australian Grand Prix (which takes place in less than two weeks time) but since it missed the last Formula One test at Barcelona, the team are facing an uphill struggle to be competitive. This is bad news for Takuma Sato and Anthony Davidson, as we don't know whether the team will be ready in time for the opening race. In addition, a lack of testing might be a major handicap in adapting to the new rules and regulations in this season's championship… Hopefully the sponsorship situation will be resolved and we get to see the former Formula 3 team-mates battling against the pack.
Team: Force India F1 Team Chassis: VJM01 Engine: Ferrari 057 Web: www.forceindiaf1.com 2007 results:* 10th, 1 point (*formerly Spyker)
Car number 20 – Adrian Sutil (2007 results: 19th, 1 point) www.adriansutil.com
Car number 21 – Giancarlo Fisichella (2007 results: 8th, 21 points) www.giancarlofisichella.it
Yet another buyout of the former Jordan team. Indian billionaire Vijay Mallya takes over the task of turning this team into serious race contenders and judging by the hiring of race winner Giancarlo Fisichella, Force India F1 could establish a solid base of some decent finishes. Partnered with the Italian is Adrian Sutil, a talented German who has the speed and spirit to drive racing cars to the edge! The new VJM01 may look like last year's Spyker with the new 2008-spec aero kit bolted on, but I have firm belief that Mike Gascoyne and his team of engineers can make this car run competitively against the Toro Rosso, Toyota and Red Bull. In addition, it's great to see Force India as the first of the new-era of nation teams in modern Formula One.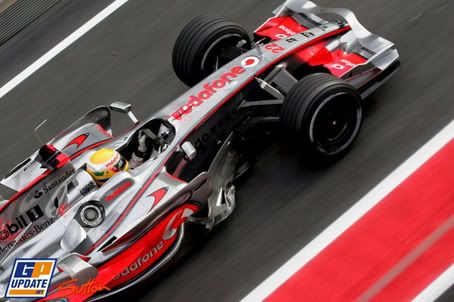 Team: Vodafone McLaren Mercedes Chassis: MP4-23 Engine: Mercedes-Benz FO 108V Web: www.mclaren.com 2007 results: excluded
Car number 22 – Lewis Hamilton (2007 results: 2nd, 109 points) www.lewishamilton.com
Car number 23 – Heikki Kovalainen (2007 results: 7th, 30 points) www.heikkikovalainen.net
McLaren should and could have won the drivers' and constructors' titles in 2007 but due to in-team tension between Lewis Hamilton and Fernando Alonso and the traumatic spygate controversy, the team suffered the consequences of losing out to an on-form Raikkonen and Ferrari. McLaren are hell bent on striking back and with a top driving talent featuring British rising star Lewis Hamilton – who missed out on winning his first drivers' title in that nail-biting Brazilian Grand Prix – and the underrated Heikki Kovalainen, the team starts as a worthy challenger to Ferrari. The new MP4-23 proves to be as quick or quicker than the Ferrari F2008 so this season could be another wheel-to-wheel battle. It will be interesting if Hamilton can sustain the high pressure of going for the drivers' title now that he has one year's racing experience. As for Kovalainen, he will relishes in the opportunity to drive a race-winner car after his troubled period at Renault last season. Expect race wins from both drivers and possibly the title.
THE CALENDAR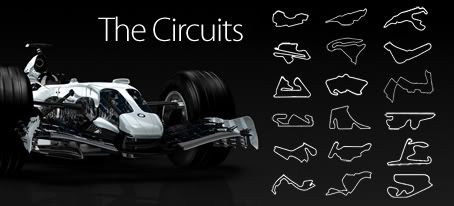 The Formula One circus will be racing around the world for the next nine months, starting with the Australian Grand Prix in Melbourne on March 16. Two new events join the 18-race calendar with the Valencia Grand Prix and the exciting night time race at Singapore. These two streets circuits will provide more action and drama to Formula One fans this season.
Round 1 Australian Grand Prix Melbourne, March 16 Laps: 58 Circuit length: 3.295 miles Lap record: 1 min. 24.125 secs (Michael Schumacher, 2004)
The season-opening Grand Prix in Melbourne, Australia is the home race for Mark Webber. Webber is still seeking that podium result in Formula One and will be on form to score a good result in front of his home fans.
Round 2 Malaysian Grand Prix Sepang International Circuit, March 23 Laps: 56 Circuit length: 3.444 miles Lap record: 1 min. 32.233 secs (Juan Pablo Montoya, 2004)
A week on from the Australian Grand Prix, the Formula One circus will be racing on perhaps the hottest race of the year. This event will be a real acid test of engine reliability and drivers fitness.
Round 3 Bahrain Grand Prix Bahrain International Circuit, April 6 Laps: 57 Circuit length: 3.366 miles Lap record: 1 min. 30.262 secs (Michael Schumacher, 2004)
The only Grand Prix to be held in the Middle East, but next year we could have two races in this region with the Abu Dhabi Grand Prix. In the meantime, the Bahrain Grand Prix will be a test for the drivers in another hot and humid race.
Round 4 Spanish Grand Prix Circuit de Catalunya, April 27 Laps: 66 Circuit length: 2.875 miles Lap record: 1 min. 22.680 secs (Felipe Massa, 2007)
This is Fernando Alonso's home event and the Spaniard will be seeking a good result in front of the passionate crowd. Not really an exciting track to be honest despite a new chicane added at the end of lap to aid overtaking… Traditionally, this is most boring race of the year as the drivers' cover thousands of miles testing here during the winter.
Round 5 Turkish Grand Prix Istanbul Park, May 11 Laps: 58 Circuit length: 3.32 miles Lap record: 1 min. 24.770 secs (Juan Pablo Montoya, 2004)
Moved from its traditional date in late August, the Istanbul Park has become a firm favourite with drivers, in particular the super-fast and challenging Turn 8. Probably the best track designed by Hermann Tilke as it rewards the drivers with a wide range of demanding corners.
Round 6 Monaco Grand Prix Circuit de Monaco, May 25 Laps: 78 Circuit length: 2.075 miles Lap record: 1 min. 14.439 secs (Michael Schumacher, 2004)
The most famous and glamorous race track in the world. The Monaco Grand Prix is every driver's dream of winning. Ayrton Senna and Michael Schumacher have won this event five times and it is the best in terms of seeing Grand Prix cars in action on the narrow streets of the Principality.
Round 7 Canadian Grand Prix Circuit Gilles Villeneuve, June 8 Laps: 70 Circuit length: 2.710 miles Lap record: 1 min. 13.622 secs (Rubens Barrichello, 2004)
The Circuit Gilles Villeneuve always provides top-quality entertainment. The fast flowing circuit may contain chicanes but at least the drivers hit top speed down the back straight. Lewis Hamilton scored his first win at Montreal last year.
Round 8 French Grand Prix Magny-Cours, June 22 Laps: 70 Circuit length: 2.741 miles Lap record: 1 min. 15.377 secs (Michael Schumacher, 2004)
The oldest race on the Formula One calendar and surprisingly the Circuit de Nevers just doesn't create the sort of racing we expect as the Formula One circus return back to Europe from its brief visit to North America (No United States Grand Prix at Indianapolis this season). Not my favourite track in my opinion, but it's Renault's home race and expect them to do a good job in front of the French fans.
Round 9 British Grand Prix Silverstone, July 6 Laps: 60 Circuit length: 3.194 miles Lap record: 1 min. 18.739 secs (Michael Schumacher, 2004)
The British Grand Prix is the home race for Hamilton, Button, Coulthard and Davidson. Each of them will receive fantastic support from the enthusiastic crowd in an aim to provide some good racing action at the former RAF airfield.
Round 10 German Grand Prix Hockenheim, July 20 Laps: 67 Circuit length: 2.780 miles Lap record: 1 min. 13.780 secs (Kimi Raikkonen, 2004)
The German Grand Prix will take place at Hockenheim this year, switching from the Nürburgring. This is Heidfeld, Rosberg, Vettel, Glock and Sutil's home race, so huge expectations are upon them all to do well.
Round 11 Hungarian Grand Prix Hungaroring, August 3 Laps: 70 Circuit length: 2.722 miles Lap record: 1 min. 19.071 secs (Michael Schumacher, 2004)
The tight and twisty circuit doesn't often provide great racing but two years ago, Jenson Button finally won his first Grand Prix despite starting in 14th position in a wet and entertaining Hungarian Grand Prix! Last year, this was the scene in which Fernando Alonso held up his team-mate Lewis Hamilton in the pits during that controversial qualifying session.
Round 12 European Grand Prix Valencia, August 24 Laps: 57 Circuit length: 3.401 miles Lap record: N/A
A new event to this season's world championship plus it's a street circuit! The Valencia Grand Prix will provide some spectacular action around the former city that hosts the American Cup yacht challenge.
Round 13 Belgian Grand Prix Circuit de Spa-Francorchamps, September 7 Laps: 44 Circuit length: 4.352 miles Lap record: 1 min. 45.108 secs (Kimi Raikkonen, 2004)
The Spa-Francorchamps circuit is the most spectacular race track on the calendar as it offers all kinds of wonderful challenges to the drivers. From the fast and challenging Eau Rouge (a sweeping left-right-left collection of corners taken flat out) to the super-quick Pouhon and Blanchimont. The Belgian Grand Prix is also a fans favourite as cars are driven to the edge!
Round 14 Italian Grand Prix Autodromo Nazionale di Monza, September 14 Laps: 53 Circuit length: 3.600 miles Lap record: 1 min. 21.046 secs (Rubens Barrichello, 2004)
The only track where the cars run low downforce due to the long straights – in which they travel around 230 mph. Monza is Ferrari's home race and with the passionate tifosi (Ferrari fans) by their side, a race win is always a joyful occasion in Italy.
Round 15 Singapore Grand Prix Singapore, September 28 Laps: 61 Circuit length: 3.148 miles Lap record: N/A
The second newest event in Formula One and this Grand Prix will be even more special as it takes place at night! The whole 3.148 mile track will be lit up providing an unusual racing conditions for the drivers. Why is the race taking place at night? To cater the European Formula One fans with suitable time slots… But will this race gone down as a gimmick or will we see other Far Eastern circuits adapting to night racing as well? Time will tell if the Singapore Grand Prix is a success.
Round 16 Japanese Grand Prix Fuji Speedway, October 12 Laps: 67 Circuit length: 2.835 miles Lap record: 1 min. 28.193 secs (Lewis Hamilton, 2007)
The scene of the most dramatic wet race of the 2007 season. Lewis Hamilton scored one of his greatest wins at Fuji but in terms of racing action, it was full of drama and excitement. It might not have challenging corners compared to the Honda-owned Suzuka International Circuit. But the Toyota-owned Fuji Speedway can still provide some top racing action thanks to its long pit straight and changeable weather conditions!
Round 17 Chinese Grand Prix Shanghai International Circuit, October 19 Laps: 56 Circuit length: 3.387 miles Lap record: 1 min. 32.238 secs (Michael Schumacher, 2004)
Last year's Chinese Grand Prix at the Shanghai International Circuit provided a twist to the world drivers' championship. Lewis Hamilton was on course to win the title but suffered a tyre problem that result him to retire when he breached his car in the only pit lane in the world to have a gravel trap! Kimi Raikkonen went to win the race setting up an exciting finale in Sao Paulo.
Round 18 Brazilian Grand Prix Autódromo José Carlos Pace, November 2 Laps: 71 Circuit length: 2.677 miles Lap record: 1 min. 11.473 secs (Juan Pablo Montoya, 2004)
The last race of the 2008 season and perhaps the Grand Prix with the most livery atmosphere! Last year, we saw Kimi Raikkonen crowned world champion with a dramatic race win against all odds. Will we see another title showdown in Interlagos this season? Let the racing speak for themselves over these 18 events!
PREDICTIONS FOR 2008
Now that we covered all the aspects in this year's Formula One championship, it's time to make some predictions. Who do I think will succeed in winning the drivers' title come season's end? Which out of the driver pairing will perform better? And which team will do well in 2008?
First, let's answer the first question as to who will become world champion. If Ferrari continues its impressive lap times from the winter testing sessions to the race tracks all year long, then I predict Kimi Raikkonen will win his second title with confidence and ease. The Finn has even admitted it was a welcome relief that he has finally won the prize and is now beginning to enjoy Formula One racing. He has the momentum and the winning organisation of Ferrari on his side so this could be the start of a new Raikkonen/Ferrari dominance with the pressure to win not so immense. But if Lewis Hamilton and McLaren are on the same performance level with the Iceman and Ferrari, then it will become a tense battle over the course of the season. Lewis may drive this season thinking about the 'bigger picture' of scoring points rather than going for the outright win. Sure, he is a racer and wants to beat everyone with style but to win a championship it is not about the number of race victories, it is about scoring consistently and I reckon that will be his game plan for 2008. Finish in the top eight as much as you can and let the points tally up to become champion.
As for Fernando Alonso, he will face a period of not finishing on the podium I predict. The Ferraris and McLarens will monopolies the top four places every other weekend, so it will be difficult for other teams like Renault to go for the race victory. Even the Spaniard has admitted the team need to find that missing half-a-second deficient to become race winners. So what about Felipe Massa? Well, the Brazilian missed out on the title battle last season and he has a chance of taking his first title in 2008, but I don't think he has the winning mentality to string together race results for the championship. He is not consistent enough and lack the racing edge that team-mate Raikkonen has. A race winner yes, but championship contender? Unlikely unless he proves me wrong!
How about the different driver pairings that each team possessed? Well, it's a common knowledge that your team-mate is the margin to judge your racing performance on, never mind your rivals. With exciting driver pairing at McLaren, Renault, Toro Rosso and Force India F1, it is difficult to see who has the qualifying or racing edge. But I can give it a try by gazing into the crystal ball!
For McLaren, Heikki Kovalainen will have the best opportunity to win his first Grand Prix in a race-winning car. After achieving this, the Finn will go to win more races and with luck, could challenge his team-mate Lewis in a battle for the drivers' crown! Unless Hamilton has other ideas as he will take on the role as the team leader… Meanwhile at Renault, Nelson Piquet Jr has the chance to showcase his racing ability against the double world champion. If the Brazilian out-qualifies and out-races Alonso week in and week out, then expect the Spaniard to face a difficult choice whether to remain competed to Formula One… Renault may not win races but it will be a fascinating contest to see who has the upper hand in points finishes.
As for Toro Rosso, Champ Car star Bourdais will have the perfect moment to display his racing finesse he developed in racing single-seaters in the US. It will be a culture shock for the Frenchman in the world of Formula One especially as he will no longer be up front unlike at Newman/Hass/Lanigan racing. But I predict he will do rather well with the superb Vettel, who looks to be a future world champion in years to come. What about Force India F1? In the case of Giancarlo Fisichella this is the last opportunity for the Italian to show the Formula One community that he can cut it. He may not drive a championship-winning car like Renault but he has the experience to make Force India F1 a serious race contenders and by partnering with Adrian Sutil, the pair can drive the team forward in this highly competitive grid.
And finally, which team will do the job this season? Judging by the intense testing sessions around Valencia, Barcelona, Bahrain and Jerez during the 'off' season of Formula One, the McLaren and Ferrari are in the class on their own. The times split by these top two teams are extremely close, no more than 0.3 seconds depending on different car configurations. I expect the close competition between McLaren and Ferrari will rage on over the course of the season, with wins split between the four drivers. It will be an extreme tight contest on which team can take the constructors crown but from my experience observing Formula One over the years, Ferrari seem to be in the position to continue that championship-winning success.
After this leading group, BMW-Sauber seem to have settle in a small space between the pace setters and the rest of the midfields, although the gap between the red and silver cars is a starting to drift away compare to last season… The BMW F1.08 seem to lack the all-out speed that Nick Heidfeld and Robert Kubica are looking for. The car seems to be a bit more trickery to drive and I predict the performance edge will push the team backwards into the clutches of the fiery midfield battle.
Speaking of this highly competitive group, it will be anyone's game on which of the following teams will be the best of the rest: Renault, Williams, Honda, Toyota, Red Bull Racing and Toro Rosso. What I will say is that Renault will have another tough period of getting back into the winners circle. Even with the double world champion behind the wheel of the RS28, I doubt the team can regain the lost performance and challenge the top two teams for race wins. Podiums are a possibility but the best scenario will be top eight finishes. For Williams, this is the same targets, point finishes and no more. For Honda, the car must be a strong improvement over last season's evil RA107, though testing has proved the otherwise… Hopefully Ross Brawn can make the car more racy over the course of the season. As for Toyota, this is make or break time as the world's biggest car manufacturer is beginning to lose patience in competing in Formula One. Wins are out of the question – not quick enough – but podiums seem to be an outside chance. What about the two Red Bull-backed teams? Scoring points will be the only priority as Adrian Newey continues to make the car better.
And bringing up the rear of the grid will be Force India F1 and Super Aguri. It may have more resources and a race winner onboard, but I predict this team will struggle to match the pace of the midfield teams. Super Aguri? Time is running out for the popular Japanese team to get ready for the first race in Melbourne and even if they can make it on the grid, the car lacks any testing development to keep up with the rest…
One thing for certain, the racing will be more entertaining thanks to the banning of traction control. Instead of relying on electronics to sort out the perfect exit out of corners, the drivers must manage the throttle with their right foot. In addition, the sound of these V8 cars will sound better around the track without the constant misfire from the TC. Will it provide overtaking? Well the cars will be more difficult to drive on the limit and mistakes will happen, but these drivers are so good behind the wheel that passing each other will still be tricky. Despite that, the racing will be more spectacular around the two new street circuits in particular the night race in Singapore. This is the new dawn on the Formula One 2008. Let the racing commence!