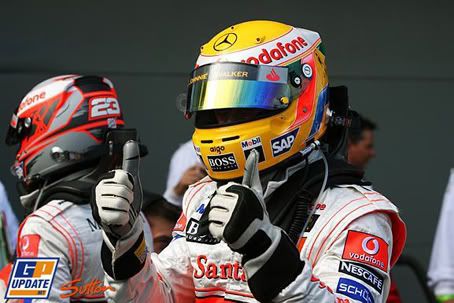 McLaren star Lewis Hamilton will start the first race of 2008 from pole position after an exciting qualifying session at Albert Park.
BMW's Robert Kubica joins him on the front row while the Ferraris of Felipe Massa and race favourite Kimi Raikkonen will start from fourth and sixteenth respectively.
As for Fernando Alonso, the Renault driver missed out the top-ten shootout and will start the Australian Grand Prix in P11.
Hamilton is in prime spot to take his first victory of the year and thanks to his main championship contenders down in mid-field, the British ace has the advantage to start his title campaign in the best possible way.
But BMW could spoil McLaren's party thanks to an excellent qualifying performance from Kubica. In fact, if the Polish driver didn't lose the momentum exiting the fast left-right chicane, Robert could have grabbed pole… Still P2 on the starting grid is mighty impressive and a chance for race glory looks likely.
New McLaren team-mate Heikki Kovalainen will start from third ahead of Felipe Massa in the Ferrari. For the Scuderia, the qualifying session didn't go according to plan with the newly crowned champion out in Q1 after suffering a fuel pump problem…
This set back for the Iceman was a major disappointment for the team, as Kimi was the favourite to take pole position and the race victory. By starting from P16, it will be a challenging Grand Prix to fight his way back into the top eight point-scoring positions, but it will be great for us to see this!
BMW's Nick Heidfeld lines up on the third row of the grid with fifth, ahead of Toyota qualifying specialist Jarno Trulli. Nico Rosberg is in seventh position for Williams with Red Bull's David Coulthard in eighth. And rounding out the top ten is Honda's Ruben Barrichello with Sebastian Vettel in the Toro Rosso. In fact, Vettel made it through to the final qualifying session after setting the sixth fastest time in Q2 but suffered a similar problem to Raikkonen and didn't set a time.
Sunday's Grand Prix at Melbourne will be fascinating, as the drivers will be racing without traction control. It should give us more racing action and hopefully overtaking. In addition, the duel to the first corner between old karting rivals Hamilton and Kubica could be dramatic as both don't want to give way!
I will be following the new drivers making their Formula One debuts closely in particular four-times Champ Car champion Sebastien Bourdais (who starts in P17) and Nelson Piquet (who seems to be struggling after qualifying P21). I want to see if these F1 rookies can handle the pressure of racing these extreme single-seaters during a full Grand Prix distance.
The first race is also a good indication on which driver and team package looks strong in the new racing season and going by past results, the winner of the opening race goes on to take the title.
For Lewis Hamilton, this year could be his and by starting in front of everyone else, the Brit has the best chance of winning in style with a great race victory in Melbourne. So fingers cross if he takes the chequered flag after 58 laps around Albert Park!
Australian Grand Prix starting grid
1. HAMILTON McLaren? 1:26.714
2. KUBICA BMW 1:26.869
3. KOVALAINEN McLaren 1:27.079
4. MASSA Ferrari 1:27.178
5. HEIDFELD BMW 1:27.236
6. TRULLI Toyota 1:28.527
7. ROSBERG Williams 1:28.687
8. COULTHARD Red Bull 1:29.041
9. VETTEL Toro Rosso 1:25.842
10. BARRICHELLO Honda 1:26.173
11. ALONSO Renault 1:26.188
12. BUTTON Honda 1:26.259
13. NAKAJIMA Williams 1:26.413
14. WEBBER Red Bull 1:26.914
15. RAIKKONEN Ferrari 1:26.140
16. FISCHELLA Force India 1:27.207
17. BOURDAIS Toro Rosso 1:27.446
18. SUTIL Force India? 1:27.859
19. GLOCK Toyota* 1:29.593
20. SATO Super Aguri 1:28.208
21. PIQUET Renault 1:28.330
22. DAVIDSON Super Aguri 1:29.059
• Timo Glock has been demoted ten places on the starting grid. Five positions by changing his gearbox, then a further five for blocking during qualifying.