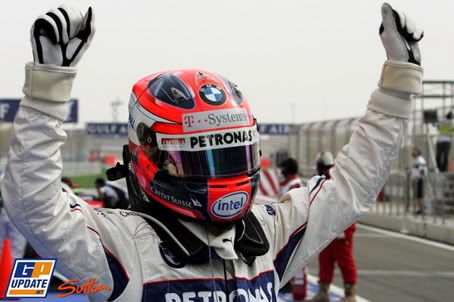 Robert Kubica took his and BMW Sauber's first Formula One pole position, upstaging Felipe Massa in the Ferrari in the final moments of qualifying.
Kubica beat the pre-race favourite Massa by a small margin of less than three hundreds of a second to take his debut pole slot at the Bahrain International Circuit. The Polish driver now has the perfect opportunity to win his first race by being at the front of the 22-car pack thanks to his impressive performance in qualifying. If he can do this, it will be a wonderful result for Formula One, the driver and for the BMW Sauber team.
Felipe Massa seemed disappointed to line up in second place after setting the pace in all the sessions leading up to the top-ten shootout in Q3. To miss out by 0.027 seconds was unfortunate but the Brazilian should be feeling upbeat, as the Ferrari is the fastest car on the track. In addition, he must answer his critics with a race victory after two non-finishes in Melbourne and Sepang, so beating Kubica will be the ideal way of showcasing that he has the potential to challenge for the world championship.
Leading the title race after two rounds is Lewis Hamilton and despite his crash in second practice on Friday, the McLaren driver did well to qualify in third place. His main contender for the drivers' crown – Kimi Raikkonen – could only manage fourth in the Ferrari while Heikki Kovalainen, in the second McLaren Mercedes, lines up fifth on the grid.
Nick Heidfeld couldn't replicate his team-mate form in qualifying and will line up on the grid in sixth, 0.6 seconds adrift from pole… Jarno Trulli continues his strong qualifying performance in the Toyota with seventh ahead of Nico Rosberg in the Williams.
As for Jenson Button, the Honda driver managed to pull off a major achievement by taking part in Q3 and recording the ninth fastest time. His performance was made even sweeter as he will start in front of a double world champion – Fernando Alonso – in the Renault!
So with Robert Kubica up front, can the Polish driver translate his pole position into race victory? It will be a wonderful achievement for Formula One but I have some doubts if the BMW Sauber can keep up with the pace against the might of the Ferraris and McLarens. In addition, what fuel loads is Kubica running in the first stint of the race? My best bet is that Felipe Massa will pass him during a round of pit stops to take the lead and the chequered flag. The Brazilian needs to record a race win to kick-start his title challenge and silence those Formula One critics after two non-finishes. As for Lewis, he can continue scoring points by beating Kimi Raikkonen to the flag and extending his points lead in the drivers' standings.
Starting grid for the Bahrain Grand Prix
1. KUBICA BMW 1:33.096
2. MASSA Ferrari 1:33.123
3. HAMILTON McLaren 1:33.292
4. RAIKKONEN Ferrari 1:33.418
5. KOVALAINEN McLaren 1:33.488
6. HEIDFELD BMW 1:33.737
7. TRULLI Toyota 1:33.994
8. ROSBERG Williams 1:34.015
9. BUTTON Honda 1:35.057
10. ALONSO Renault 1:35.115
11. WEBBER Red Bull 1:32.371
12. BARRICHELLO Honda 1:32.508
13. GLOCK Toyota 1:32.528
14. PIQUET Renault 1:32.790
15. BOURDAIS Toro Rosso 1:32.915
16. NAKAJIMA Williams 1:32.943
17. COULTHARD Red Bull 1:33.433
18. FISICHELLA Force India 1:33.501
19. VETTEL Toro Rosso 1:33.562
20. SUTIL Force India 1:33.845
21. DAVIDSON Super Aguri 1:34.140
22. SATO Super Aguri 1:35.725