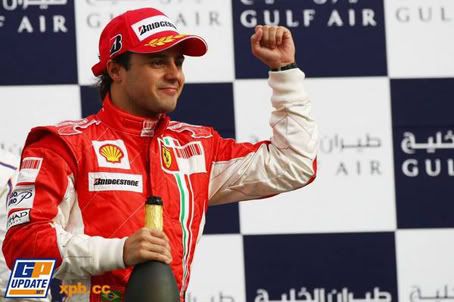 After two non-finishes Ferrari's Felipe Massa answers his Formula One critics with a flawless victory at Bahrain, leading his team-mate Kimi Raikkonen to the chequered flag.
The Brazilian had been under pressure to perform after his race-costing errors in Melbourne and Sepang, so this latest race victory – his second in succession at the Bahrain International Circuit – has kick-started his title ambitions. The Brazilian was the fastest driver all weekend and was unlucky to miss out on pole position, but Massa made amends by scoring that all important ten points.
World champion Kimi Raikkonen finished in second position beating pole sitter Robert Kubica in the BMW Sauber. The Iceman made a pass on Kubica on lap three but didn't have the speed to challenge his Ferrari colleague for the win. Despite this, Raikkonen now heads the drivers' title standings after a disappointing race for Lewis Hamilton in the McLaren.
Starting third on the grid, Lewis made a poor getaway and ended the opening lap down in tenth position. Then he collided into the back of his ex-McLaren team-mate Fernando Alonso on the exit at turn two damaging his front wing! Lewis was able to continue but spent most of the race playing catch-up running a heavy fuel load. He finished in a frustrating 13th position and a lap down to the red cars…
As for the incident involving Alonso, I believe the double world champion performed a 'brake test' on Lewis by deliberately slowing down on the exit of the corner… The Renault driver was defending his ninth position from his arch-rival and decided to back off the throttle causing the McLaren driver to smash into him! But saying this, I think Lewis Hamilton was too eager in trying to make up lost positions (he lost seven on the opening lap). By observing the in-car footage from Hamilton's perspective, I think he was caught out by the slow Renault in his much quicker car…
Whatever the true reason – we need to look at the telemetry from Alonso to discover the cause of the incident – it was a set back for Lewis in terms of keeping hold of his drivers' championship lead. With Raikkonen finishing in second in a Ferrari one-two, the Iceman now heads the title race by five points.
This wasn't the only incident in the Grand Prix, as there was a collision at turn four involving Sebastian Vettel and several others cars. The Toro Rosso was out on the spot, while Jenson Button and David Coulthard came limping around to the pits for new tyres after picking up punctures…
Later on, the British pair managed to collide with one another after trying to make up lost time. Button criticised his friend DC for moving across on him in the braking zone. Jenson took avoiding action but ended up hitting the Red Bull!
It was a disappointing end for the Honda driver after his great performance in qualifying but at least the RA108 has the speed to keep on tabs with the Formula One grid. This gives confidence to Jenson and his team as they seek out more performance in the next couple of races.
BMW Sauber didn't take the opportunity to turn pole position into race victory but at least the team are now heading the constructors' standings thanks to Robert Kubica and Nick Heidfeld finishing in third and fourth respectively. That elusive first race victory will have to wait for another day.
It was a frustrating weekend for McLaren with Heikki Kovalainen finishing in a lonely fifth and team-mate Lewis Hamilton in P13. The MP4/23 was off the pace and the Woking team will need to rediscover that winning formula to regain that lost ground in order to challenge rival Ferrari in the remaining rounds of the championship.
Toyota's Jarno Trulli continues to impress with another points finish with sixth, confirming the great progress made by the Japanese squad over the winter.
Mark Webber finished in seventh for the second race running in the Red Bull, beating Nico Rosberg's Williams during the first rounds of pit stops. Rosberg was the last point scorer with eighth.
Rounding up the top ten is Timo Glock in the Toyota and Fernando Alonso – with that battle/tyre scar on the rear wing…
Even with Felipe Massa winning the Bahrain Grand Prix, team-mate Kimi Raikkonen now heads the drivers' standings with 19 points, ahead of Nick Heidfeld on 16. Hamilton, Kubica and Kovalainen are on 14 with today's race winner on 10. In the constructors' chase, BMW Sauber leads with 30, ahead of Ferrari on 29 and McLaren on 28.
The next stop is Barcelona in three weeks time. Ferrari are the pace setters in this year's championship and BMW – not McLaren – are chasing them for glory. Can BMW scored that dream result and can McLaren strike back? Find out at the end of the month at the Circuit de Catalunya.
Bahrain Grand Prix result – 57 laps
1. MASSA Ferrari +1hr31m06.970s
2. RAIKKONEN Ferrari +3.3s
3. KUBICA BMW +4.9s
4. HEIDFELD BMW +8.4s
5. KOVALAINEN McLaren +26.7s
6. TRULLI Toyota +41.3s
7. WEBBER Red Bull +45.4s
8. ROSBERG Williams +55.8s
9. GLOCK Toyota +69.5s
10. ALONSO Renault +77.1s
11. BARRICHELLO Honda +77.8s
12. FISICHELLA Force India +1 lap
13. HAMILTON McLaren +1 lap
14. NAKAJIMA Williams +1 lap
15. BOURDAIS Toro Rosso +1 lap
16. DAVIDSON Super Aguri +1 lap
17. SATO Super Aguri +1 lap
18. COULTHARD Red Bull +1 lap
19. SUTIL Force India +2 laps
R. PIQUET Renault +17 laps
R. BUTTON Honda +38 laps
R. VETTEL Toro Rosso +57 laps
Fastest lap: KOVALAINEN 1m33.193s
Drivers' championship standings
1. Kimi Raikkonen 19
2. Nick Heidfeld 16
3. Lewis Hamilton 14
4. Heikki Kovalainen 14
5. Robert Kubica 14
6. Felipe Massa 10
7. Jarno Trulli 8
8. Nico Rosberg 7
9. Fernando Alonso 6
10. Mark Webber 4
11. Kazuki Nakajima 3
12. Sebastien Bourdais 2
Constructors' championship standings
1. BMW Sauber 30
2. Ferrari 29
3. McLaren 28
4. Williams 10
5. Toyota 8
6. Renault 6
7. Red Bull 4
8. Toro Rosso 2
NEXT ROUND: Spanish Grand Prix, Circuit de Catalunya. April 27.