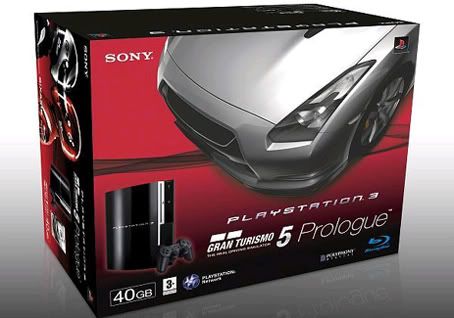 Back in March 2007, I posted on my blog that I wasn't that interested in the PlayStation 3 as it was too expensive and didn't have that many games. Well, after a year of waiting for the price cut and a certain "real driving simulation", I have finally purchased the new Sony game console.
Sure, it doesn't support the backwards compatibility to play PlayStation 2 games like Okami, Grand Theft Auto: San Andreas and Metal Gear Solid 3: Snake Eater, but at least I didn't have to pay over £400 to buy this advance machine. Okay, it has a smaller hard drive than the 60GB model – that can also play PS2 games – but I feel I made a wise choice in buying one as there are some decent quality titles coming out on this system in 2008.
The first of which is Gran Turismo 5 Prologue. It maybe a demo offering a slight glimpse of what the real game will be like with hundreds of car manufacturers, real race tracks from around the world and at last, damage mode – but the fact that this game showcase the potential of the PS3 with high definition visuals and sound means I am genuinely excited by this next gen video game console.
The PlayStation 3 uses the Blu-ray disc media that is now the definitive choice for high definition viewing – though I won't be spending my cash on purchasing the same films to have a rich and nice display.
I believe Konami's tactical espionage action game that is Metal Gear Solid 4: Guns of Patriots will be the biggest hit for the PS3. From scanning those stunning screenshots and digesting every bit of information about Hideo Kojima's stealth-based video game, I am genuine excited to play it.
For the time being, I will make do with the racing games I got for the system with the likes of Formula One Championship Edition and MotorStorm to fulfil my need for speed.