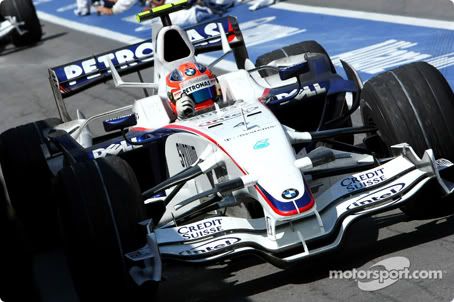 Twelve months on after his horrific crash, Robert Kubica claimed his maiden win at the Circuit Gilles Villeneuve.
Kubica led home his team-mate Nick Heidfeld, giving BMW Sauber both their first victory and first one-two as a full Formula 1 constructor.
It had been a remarkable turnaround for the Polish driver following a year on from his atrocious crash at the street circuit. His debut victory for BMW – the manufacturer's first since taking over Peter Sauber's team back in 2006 – means Robert now heads the drivers' standings for the first time in his Grand Prix career.
David Coulthard finished in an excellent third position for Red Bull Racing despite issues with his brakes. The Scot avoided all the chaos and made a decisive pit stop during the Safety Car period to take his place on the podium. It was DC's first top three finish since the Monaco Grand Prix back in 2006.
The podium finishers all benefitted from the race's most dramatic moment, when championship leader Lewis Hamilton crashed into the back of Kimi Raikkonen in the pits!
Prior to the bizarre incident, Hamilton was on course for a dominant victory. The McLaren driver led away from pole position and was pulling away with ease from Kubica and Raikkonen in the early laps. But when Adrian Sutil parked his Force India on the entrance to Turn 3 on lap 17, race control decided to deploy the Safety Car.
All of the leading runners headed to the pits to take advantage of the caution period. Hamilton came into the pit lane first but a poor pit-stop by the McLaren mechanics meant he lost ground to Raikkonen and Kubica. The Ferrari and BMW then dutifully halted at the pit lane exit because the red light was flashing away to signal the drivers NOT to return back onto the race circuit. It was at this moment Hamilton ploughed into the back of the Ferrari!
As for Nico Rosberg – who gained fourth position after passing Fernando Alonso's Renault at the first corner – the Williams driver also got caught out in the pit exit mayhem! Unlike Raikkonen and Hamilton, though, Rosberg was able to continue after a second stop for repairs. He would later on finish in tenth.
That incident in the pits and the Safety Car period meant that the midfields runners were able to score big in this dramatic Canadian Grand Prix.
Toyota opted for a single pit stop for both of its drivers and at the chequered flag, Timo Glock broke his 2008 duck with fourth – two places ahead of team-mate Jarno Trulli.
Split between the Japanese cars was Felipe Massa in the sole remaining Ferrari. The Brazilian had a topsy-turvy afternoon behind the wheel of his F2008. First, a miscommunication from his team meant he had to make an extra pit stop during the Safety Car period (the Ferrari mechanics had the wrong fuel pump for him). Then he lost even more ground when Felipe had to make a late 'splash-and-dash' pit stop with 18 laps to go.
This was frustrating for Massa, as the Ferraris had the speed to match the McLarens in race trim. Still, this didn't hinder the Brazilian in terms of pulling off some fantastic overtaking manoeuvres, in particular on lap 50 when he passed both Rubens Barrichello and Heikki Kovalainen in one go!
Actually, Kovalainen was caught out by the fragile track surface at the hairpin (the scene in which many drivers were voicing their concerns to the race organisers). Heikki slid wide with Barrichello and that allow Massa to slip through down the inside. The Finn then spent the remaining part of the race in a huge battle with the Honda and Toro Rosso's Sebastian Vettel for the final point-scoring positions. But in the end, Heikki was unable to pass Vettel and finished in ninth.
Rosberg completed the top ten after his early delay in the pits, finishing ahead of Jenson Button, Mark Webber and Sebastien Bourdais.
His Williams team-mate Kazuki Nakajima was heading for another strong result but had to retire after damaging his front wing on the rear of Button's Honda. The dislodged wing then wedged under the front of the Williams and sent it into the wall in the pit entrance.
As for Renault, it was a bad day for Flavio Briatore as Nelson Piquet Jr. was forced to retire after spinning while chasing team-mate Alonso. The double world champion also spun when trying to pass Nick Heidfeld's BMW Sauber. Alonso blamed the crumbling track surface when he hit the wall on lap 45.
Giancarlo Fisichella became the final retirement when he crashed his Force India on the way out of Turn 4.
So a fantastic result for Robert Kubica. His breakthrough victory after 28 races is a great achievement. I bet Mario Theissen, the team principal, is feeling ecstatic with this result, but I do feel sorry for Nick Heidfeld though. The German was unable to make use of his heavy-fuelled car in the middle stint of the race and that elusive win for Nick will come soon.
Kubica now leads the drivers' standings with 42 points, four points ahead of Lewis Hamilton and Felipe Massa. BMW Sauber now moves into second position in the constructors' championship, three points behind leader Ferrari and 17 points ahead of McLaren-Mercedes.
Canadian Grand Prix result – 70 laps
1. Kubica BMW Sauber 1h36:24.447
2. Heidfeld BMW Sauber +16.495
3. Coulthard Red Bull-Renault +23.352
4. Glock Toyota +42.627
5. Massa Ferrari +43.934
6. Trulli Toyota +47.775
7. Barrichello Honda +53.597
8. Vettel Toro Rosso-Ferrari +54.120
9. Kovalainen McLaren-Mercedes +54.433
10. Rosberg Williams-Toyota +54.749
11. Button Honda +1:07.540
12. Webber Red Bull-Renault +1:11.299
13. Bourdais Toro Rosso-Ferrari +1 lap
Fastest lap: Raikkonen, 1:17.387
Not classified/retirements:
Fisichella Force India-Ferrari 54 laps
Nakajima Williams-Toyota 49 laps
Alonso Renault 47 laps
Piquet Renault 42 laps
Raikkonen Ferrari 20 laps
Hamilton McLaren-Mercedes 20 laps
Sutil Force India-Ferrari 14 laps
World Championship standings, round 7:
Drivers:
1. Kubica 42
2. Hamilton 38
3. Massa 38
4. Raikkonen 35
5. Heidfeld 28
6. Kovalainen 15
7. Webber 15
8. Trulli 12
9. Alonso 9
10. Rosberg 8
11. Nakajima 7
12. Coulthard 6
13. Vettel 5
14. Barrichello 5
15. Glock 5
16. Button 3
7. Bourdais 2
Constructors:
1. Ferrari 73
2. BMW Sauber 70
3. McLaren-Mercedes 53
4. Red Bull-Renault 21
5. Toyota 17
6. Williams-Toyota 15
7. Renault 9
8. Honda 8
9. Toro Rosso-Ferrari 7
Next race: French Grand Prix, Magny-Cours. June 20-22.
UPDATE: Lewis Hamilton and Nico Rosberg will lose ten places on the grid at the French Grand Prix following their pit lane incident in Canada.
Hamilton crashed into the back of Ferrari's Kimi Raikkonen at the end of the pit lane on lap 20, when the Finn braked to stop in front of the red light. The Briton said he saw the light too late and could not avoid hitting the Ferrari.
Both men retired in the accident.
Rosberg could not stop in time either and hit Hamilton from behind, although the Williams driver was able to continue in the race.
Both Hamilton and Rosberg will be hit with a 10-place grid penalty in France in two weeks' time.