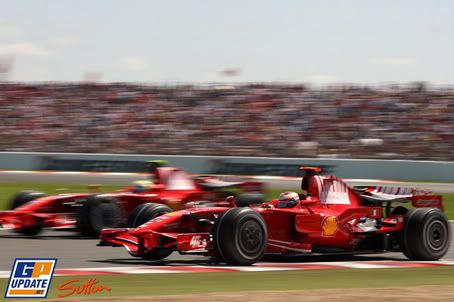 World champion Kimi Raikkonen claimed Ferrari's 200th pole position as he and team-mate Felipe Massa locked out the front row. The qualifying session at Magny-Cours became a private duel between the Scuderia pair, with each setting the quickest time around the 2.741-mile race track.
Massa initially set the pace with his impressive Q1 and Q2 performance but in the session that matter the most – the top ten shootout – it was Raikkonen who took the honours with a lap time of one minute, 16.449 seconds.
Even though Lewis Hamilton was third fastest, the McLaren driver has be demoted ten places following his pit-lane incident in the Canadian Grand Prix a fortnight ago. So lining up behind the red cars will be Fernando Alonso in the Renault.
Toyota's Jarno Trulli also moves up a place and will join the double world champion on row two.
Heikki Kovalainen lines up in fifth place for McLaren ahead of Montreal winner Robert Kubica. The championship leader seemed to lack the outright pace compare to Ferrari and McLaren, which is a surprise as you would expect the BMW Sauber to continue that winning performance after Canada… Both Kubica and team-mate Nick Heidfeld (who is down in eleventh) will experience a difficult race on Sunday with these low grid positions.
Red Bull Racing takes up row four with Mark Webber edging ahead of team-mate David Coulthard, despite being slowed on his first Q3 lap when Trulli had a spin in his path at the 180 corner.
Timo Glock will start the French Grand Prix in ninth alongside the under-pressure Renault driver of Nelson Piquet. The Brazilian needs to put in a solid performance after seven disappointing races. His future at the team hangs in balance if he suffers another non-finish.
Sunday's French Grand Prix will provide some interesting stories especially in the drivers' championship. Kubica currents leads with 42 points but can Kimi Raikkonen (who is down in fourth in the standings) ignite his season campaign with race victory? What about Massa? Can the Brazilian challenge his Ferrari team-mate? And as for Hamilton, the British driver needs to take big risks by overtaking several cars if he wants to score big.
In addition, there is a small possibility of rain heading to Circuit de Nevers on race day. So will Lewis benefit the bad weather to his advantage with his low grid position? Lets wait and see.
Qualifying times from Magny-Cours:
1. Kimi Raikkonen, Ferrari 1:16.449
2. Felipe Massa, Ferrari 1:16.490
3. Fernando Alonso, Renault 1:16.840
4. Jarno Trulli, Toyota 1:16.920
5. Heikki Kovalainen, McLaren 1:16.944
6. Robert Kubica, BMW Sauber 1:17.037
7. Mark Webber, Red Bull 1:17.233
8. David Coulthard, Red Bull 1:17.426
9. Timo Glock, Toyota 1:17.596
10. Nelson Piquet, Renault 1:15.770
11. Nick Heidfeld, BMW Sauber 1:15.786
12. Sebastian Vettel, Toro Rosso 1:15.816
13. Lewis Hamilton, McLaren 1:16.693*
14. Sebastien Bourdais, Toro Rosso? 1:16.045
15. Kazuki Nakajima, Williams 1:16.243
16. Jenson Button, Honda 1:16.306
17. Rubens Barrichello, Honda? 1:16.330
18. Giancarlo Fisichella, Force India? 1:16.971
19. Adrian Sutil, Force India? 1:17.053
20. Nico Rosberg, Williams 1:16.235*
* Ten-place grid penalty following the pit-lane crash at Montreal